Monday Overnight Open Thread (3/20/17) Spring Edition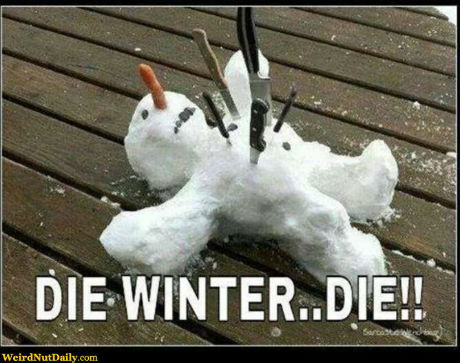 Good-bye Winter!!! Hello Spring!!!!
*****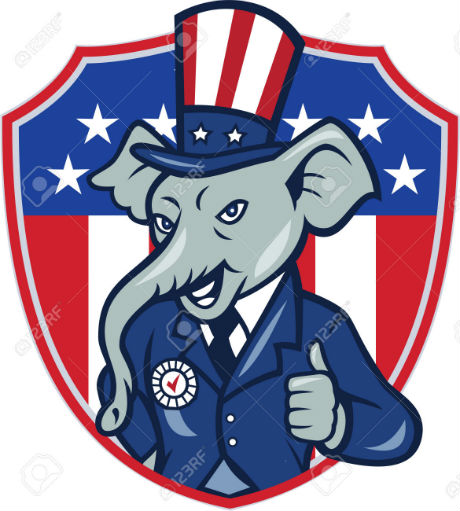 Our history lesson for the day. On this day in history, March 20th, 1854
The Republican Party is founded.
In Ripon, Wisconsin, former members of the Whig Party meet to establish a new party to oppose the spread of slavery into the western territories. The Whig Party, which was formed in 1834 to oppose the "tyranny" of President Andrew Jackson, had shown itself incapable of coping with the national crisis over slavery.
Now they run against an issue and when elected forget what they ran on.
Joni Ernst, one tough broad. NOT.
Ernst may not be up for re-election until 2020, but to the rest of the GOP
2018 isn't that far away.
Quotes of The Day
Quote I
I have always thought the actions of men the best interpreters of their thoughts. John Locke
Quote II
People ask me what I do in winter when there's no baseball. I'll tell you what I do. I stare out the window and wait for spring. Rogers Hornsby
Quote III
Democracy... while it lasts is more bloody than either aristocracy or monarchy. Remember, democracy never lasts long. It soon wastes, exhausts, and murders itself. There is never a democracy that did not commit suicide. John Adams
Over the weekend, we lost a Rock 'n Roll icon. Chuck Berry passes away at age 90.
Did you know Chuck Berry was a paid Beach Boy?
The 1963 hit single listed Beach Boy Brian Wilson as the sole composer of the track, but the melody was a complete replication of Chuck Berry's "Sweet Little Sixteen." For his part, Wilson denied any intentional wrongdoing. "I just took 'Sweet Little Sixteen' and rewrote it into something of our own," Wilson told the Los Angeles Times of the incident in 2015.
Guess what tomorrow is?
Besides Tuesday, it is also
National Common Courtesy Day.
You Lefties ought to participate. You might even get a trophy out of the deal. By the way,
this isn't courtesy.
Quite the week for Chelsea Clinton.
Named to the board of directors at Expedia. And over paid for
the book, 'She Persisted'.
These book companies must have huge slush funds to pay off politicians and their spawn.
NSFW
Meet the $6,000 woman.
Love Dolls from Japan.
NSFW
Japan's oldest and largest "love doll" maker Orient Industry, has been producing silicone love dolls since 1977, and has seen there is a trend for intimate relationships with silicone dolls in Japan. The Orient Industry's factory produces approximately 500 life size hand-made per year, and one doll, costs up to 600,000JPY (approx. 6,000 USD), takes four to five weeks to be finished. Originally, the company was marketing love dolls for disabled people, and the company continues to support the community by providing discounts and consulting their sexual urges
There is a special place in hell for certain doctors in the Netherlands.
Euthanasia or Murder?
Doctors in the Netherlands and Belgium have also routinely euthanized patients with depression. Now, a law to "legalize euthanasia for perfectly healthy people who hold 'a well-considered opinion that their life is complete'" is being considered in the Netherlands.
Are we that far behind here in the U.S.A.?
Six side effects to legal marijuana.
Problems with legal pot? Who knew?
The ONT Musical Interlude
March 20, 1969, John Lennon married Yoko Ono in Gibraltar. They spent their honeymoon in Amsterdam campaigning for an international "Bed-In" for peace. They planned another "Bed-in" in the United States, but were denied entry. The couple then went to Montreal, and during a "Bed-in" at the Queen Elizabeth Hotel recorded 'Give Peace a Chance'. Lennon also detailed this period in The Beatles 'The Ballad of John and Yoko', recorded by Lennon and McCartney on April 14, 1969. via thisdayinmusic.com
March 20, 1961, Elvis Presley started a two week run at No.1 on the US singles chart with 'Surrender', his fifth No.1 of the 60's. It also made No.1 in the UK. The song was based on the 1911 Italian song, 'Return To Sorrento.' via thisdayinmusic.com
*****
The State of California just made it tougher to keep weeds under control.
Weed killer Round Up deemed to be cancer causing.
Several other environmental health regulators from around the world, including the Environmental Protection Agency (EPA), previously concluded that glyphosate has "low acute toxicity." Glyphosate is used in more than 750 agricultural, household and forestry products worldwide, and its use is only predicted to increase now that Monsanto has released genetically modified "Roundup Ready" seeds that are resistant to it. Environmental advocates hope that this new report will force health regulators to take a closer look at Roundup and its possible effects on humans and the planet.
In 60 years of robots, only one industry has been eliminated.
Or at least they did. For years I've heard my vocation is on the list of jobs where robots are already replacing humans (along with shepherds, telemarketers, and bartenders). But is that really true? A working paper by James Bessen of Boston University School of Law argues that occupations that use computers grow faster, not slower and that computer automation is not a source of significant overall job losses.
Ripon, WI may have been the home of the Republican Party. But, Latrobe, PA is the birthplace of something sweet and yummy,
The Banana Split.
MLB spring training is happening. Baseball season is right around the corner. NCAA winter sports tournaments are taking place. The NHL playoff push is on. So what's new in the NFL?
It seems Colin Kaeperdick Kaepernick is not liked in the NFL.
"Third, the rest genuinely hate him and can't stand what he did [kneeling for the national anthem]. They want nothing to do with him. They won't move on. They think showing no interest is a form of punishment. I think some teams also want to use Kaepernick as a cautionary tale to stop other players in the future from doing what he did."
Dogs in the U.K face deadly disease.
Alabama Rot.
The United States is facing a shortage.
Police departments across the country face officer shortage.
Numerous police departments around the country are desperately losing manpower with decreasing numbers of officers and recruits. Law enforcement is becoming less of a desirable career choice due to diminishing pay, high risk, and of course a recent bad rap — a trend that could put public safety at risk, say policing experts.
The current shortage afflicts police forces from large metropolitan hubs to rural towns.
Jumping doesn't injure you, it's the abrupt stop.
Genius Award Winner.
For every action there is an equal and opposite reaction.
Genius Award Winners and The Feel Good Story of The Day wrapped up into one.
Not all college students party at spring break.
Tonight's Feel Good Story of The Day.
Tonight's ONT has been brought to you by Moron Jeopardy.

Notice: Posted with permission by AceCorp, LLC. Read all directions before use.
We normally run this on Sunday. You get it tonight.
Top 10 commenters:
1 [490 comments] 'Slapweasel, (Cold1), (T)' [68.83 posts/day]
2 [404 comments] 'logprof'
3 [365 comments] 'Insomniac - sin valor'
4 [357 comments] 'J.J. Sefton'
5 [333 comments] 'TheJamesMadison'
6 [322 comments] 'garrett'
7 [301 comments] 'All Hail Eris, She-Wolf of the 'Ettes 'Ettes'
8 [300 comments] 'Mr. Peebles'
9 [265 comments] 'bluebell'
10 [263 comments] 'Lizzy' Top 10 sockpuppeteers:
1 [48 names] 'Steve and Cold Bear' [6.74 unique names/day]
2 [45 names] 'Preezy 44'
3 [40 names] 'logprof'
4 [39 names] 'Notorious BFD'
5 [36 names] 'Steve and Cold Bear'
6 [35 names] 'Mike Hammer, etc., etc.'
7 [35 names] 'garrett'
8 [31 names] 'Duncanthrax'
9 [30 names] 'wth'
10 [29 names] 'Rick in SK' h/t Maetenloch
Posted by: Misanthropic Humanitarian at
10:00 PM