Sunday Morning Book Thread 01-01-2017: The Golden Age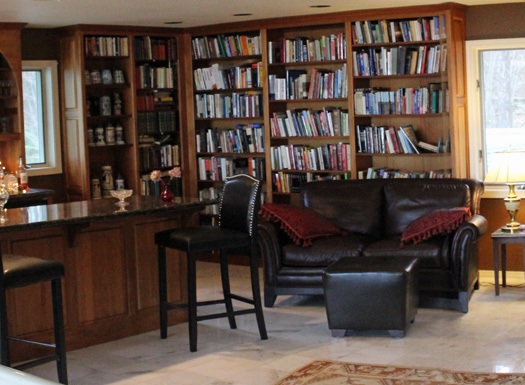 The Yuuge, Classy, and Luxurious Library of Lurker Johnw
It's another beautiful day at AoSHQ's stately, prestigious, internationally acclaimed and high-class Sunday Morning Book Thread and continual soiree, where men are men, all the 'ettes are impossibly attractive,
safe spaces
are underneath your house and are used as protection against actual dangers, like tornados, hurricanes, politically motivated social media attacks, somebody sneaking carrots into your chili, and special snowflakes do not get respect, but instead, Bronx cheers. And unlike other AoSHQ comment threads, the Sunday Morning Book Thread is so hoity-toity, pants are required. Even if it's
these pants
, which don't look good even on an attractive model.
Pic Note
I think this is the best Moron library I've seen so far. You've got to click on to see the expanded view, which is just not a larger version of the same photo. You will easily see that johnw's library has everything a Moron could want: 1. Books
2. Yuuge, luxurious furniture
3. A well-stocked wet bar
4. A fireplace
5. More books Johnw tells me this library is located in "the wilds of N Idaho." I can think of worst places to be on those snowy winter nights up there.
Not A Savior, But A Rooster Crowing
I like this comment from Aetius451AD that he posted a couple of book threads ago concerning the election results:
I love Tolkien's work...Before the Jackson movies, the scene that always grabbed be in the books was the Battle of the Pelenor Fields...That sense of defeat. That heavy weight of evil settling over the land. The despair on every face. The sight of Gandalf sitting his horse as the men of Gondor ran for their lives. One man against the tide, knowing he would fail, but standing still. You knew he was doomed. There was no hope.


Then somewhere in the darkness, a cock crowed. Speaking not of war, death , and despair, but of the dawn. And a single ray of light pierces the darkness.


How this ties into today and what I feel thankful for is obvious. We all know the general feeling we have had these past 8 years. And I am not saying that Trump is in any way a savior or God sent. I am saying in the past few days, it has been amazing that the feeling of hope has seemed to have pierced the blanket. Trump is not the savior.

But I will buy that he is that rooster crowing.

Posted by: Aetius451AD at November 27, 2016 10:02 AM (NLQj5)
I feel the same way. Trump wasn't my first choice for president. Or even my second. Or third. In fact, you'd have to get down to Kasich/Huntsman levels before you'd find candidates who appealed to me less than Trump. But when the time came, I voted for Trump and hoped for the best. And now, when I get up in the morning, there's this wee little spark of hope that I haven't felt for 8 years. Things aren't quite as bad as they were before November 7th. I would like to believe that Obama represents the high-water mark of progressivism in America. But I don't know for sure if that's true. I know that some of you morons, such as JackStraw, argue that Trump's election is just part of a much broader repudiation of progressive values. It is very much like the Brexit vote, another seismic event that the elite classes completely whiffed on. And zombie enthusiastically calls Trump's election
a pivotal turning point in human history
. Let's say this is correct, like we all would like. Then what do we do now? How do we get things moving again?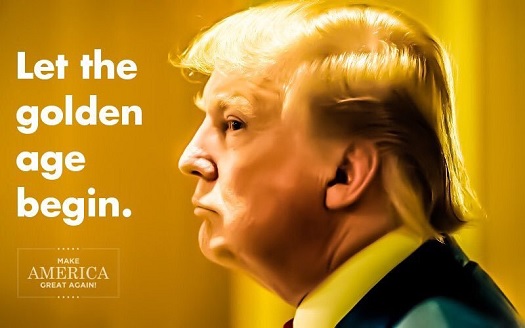 Here's A Card You Can Give To Your Liberal Friends

With that question in mind, this book seems appropriate:
The Way Back: Restoring the Promise of America
by George Mason University professor Frank Buckley that addresses the problem where
An ostensibly progressive New Class of comfortably rich professionals, media leaders, and academics has shaped the contours of American politics and given us a country of fixed economic classes. It is supported by the poorest of Americans, who have little chance to rise, an alliance of both ends against the middle that recalls the Red Tories of parliamentary countries. Because they support an aristocracy, the members of the New Class are Tories, and because of their feigned concern for the poor, they are Red Tories.
Unlike most conservatives, Buckley (I don't think he's related to the famous Buckley clan) directly addresses the problem of income inequality, by focusing on the actual cause, income immobility, i.e. policy has been favoring the "New Class" aristocrats at the expense of everyone else so that the poor find it very difficult to rise up out of their poverty. As one reviewer notes that this book
...poses a rather startling hypothesis: that everything from the poor state of public schools to professional licensing to the regulatory is a result of aristocrats trying to protect their special privilege. Teacher unions are allowed to turn public schools into waste lands that prevent children from getting a decent education, thus preventing them from advancing in life. A stunning fact that Buckley points to is that 1/3rd of Americans have to have a professional license to do their jobs. That licensing not only protects those who already are employed in those licensed occupations, and it also makes it hard for people to move between occupations.
A Bernie-boi reviewer gave the book one star because the author allegedly supports Trump. Alrighty then. I guess we're going to be hearing a lot of "guilt by association" accusations flung around over the next 4 (or 8?) years where all that is considered necessary to disregard somebody you disagree with is to find a way, however tenuous, to link him to Donald Trump.
Dr. Sowell, We Hardly Knew Ye
It was said news earlier this week for us to learn that Thomas Sowell is retiring. One can hardly blame a man in his 80s for wanting to hang it up, and we all wish him well, but the man is a national treasure and we hate to see him go. Another way to describe him is a prophet without honor. He spoke economic truth for years, and was basically ignored by the power and status elites. There is probably nothing more he would've liked to see more than his fellow African Americans happy, prosperous, and crime free, which they would be if only they would listen to him. But they didn't, so they're none of those things, and Mr. Sowell will probably not live to see much, if any, improvement. But despite not being listened to, Mr. Sowell has left behind an intellectual legacy that is nothing short of astounding. All of his books are amazing. But the one this country needs right now, after the gross fiscal mismanagement by successive federal administrations of both parties is
Basic Economics
. This is a book wherein
Thomas Sowell revises and updates his popular book on common sense economics, bringing the world into clearer focus through a basic understanding of the fundamental economic principles and how they explain our lives. Drawing on lively examples from around the world and from centuries of history, Sowell explains basic economic principles for the general public in plain English.
It wouldn't hurt for everyone in Washington DC to read this book, to acquaint themselves with their economic ABCs. And then they might be ready to move on to
Applied Economics: Thinking Beyond Stage One
, which
...includes a chapter on the economics of immigration and new sections of other chapters on such topics as the "creative" financing of home-buying that led to the current "subprime" mortgage crisis, the economics of organ transplants, and the political and economic incentives that lead to money earmarked for highways being diverted to mass transit and to a general neglect of infrastructure. On these and other topics, its examples are drawn from around the world. Much material in the first edition has been updated and supplemented. The revised and enlarged edition of Applied Economics retains the easy readability of the first edition, even for people with no prior knowledge of economics.
And if there's only one other book by Sowell that you're able to read, I would recommend
The Vision of the Anointed: Self-Congratulation as a Basis for Social Policy
:
Sowell presents a devastating critique of the mind-set behind the failed social policies of the past thirty years. Sowell sees what has happened during that time not as a series of isolated mistakes but as a logical consequence of a tainted vision whose defects have led to crises in education, crime, and family dynamics, and to other social pathologies. In this book, he describes how elites—the anointed—have replaced facts and rational thinking with rhetorical assertions, thereby altering the course of our social policy.
My favorite quote from Sowell comes from one of his TV interviews where the little-old-liberal-lady-in-tennis-shoes interviewer remarked that she could see he had great "faith in the free market." "No, madam, I don't have faith in the free market", Sowell replied, "I have *facts* about the free market." This year, we've lost both Antonin Scalia and Sowell. I fear we will not see their like again.
A Diversity Too Far
The Chicago Review of Books
claims to be "dedicated to diverse voices in literature." At least, that's what it says on its
Twitter account
. But all is not well at the ChiRevBks because publishing giant Simon & Schuster just signed a $250K book deal with "a leading white nationalist." Because of this, ChiRevBks tweeted
"In response to this disgusting validation of hate, we will not cover a single @simonschuster book in 2017."
So, who is this avatar of "white nationalism" that the ever-diverse ChiRevBks is so repulsed by that all of their diversity has to be jettisoned like excess luggage on a sinking lifeboat? Is it Richard Spencer, leader of some 200 white guys that nobody heard of or cared about until the MSM started screaming and yelling about him and running around with their hair was on fire? Could it be Zombie Adolf Hitler, risen from the grave and hiding out somewhere disguised as some Donald Trump precinct captain? Or perhaps it was some Kooky Kleagle of the KKK that they found in the Alabama Democratic Party HQ's basement? Who could it be? Surprise! It was Milo Yiannopoulos! Really?
Yes, really
:
Threshold and Simon & Schuster were not available for comment, but people with knowledge of the situation say Yiannopoulos is getting an advance of $250,000 for his book. The autobiographical book is his first, though Yiannopoulos, a flamoboyant and gay conservative, has a wide following for his writing, especially at Breitbart News, where he is an editor.
How about that? The pious avatars of diversity suddenly turn tail and run when confronted with actual diversity. Others on the Twitter feed are pointing out that the ChiRevBks boycott will just hurt smaller, lesser-known Simon & Schuster authors who might otherwise benefit by exposure given to them by a ChiRevBks review. But their pleas are falling on deaf ears. The blatantly homophobic Chicago Review of Books considers its virtue-signalled more important than promoting the diverse authors they claim they want to support. George Orwell just e-mailed and said "And you're surprised by this?" So, what's the book going to be about?
"DANGEROUS will be a book on free speech by the outspoken and controversial gay British author and editor at Breitbart News who describes himself as the 'most fabulous supervillain on the Internet,'" Simon & Schuster said in a statement.
Here are some more examples
of progressives dialing it up to 11 because of this book deal. Milo, naturally, is like a kid in a candy store:
"Every line of attack the forces of political correctness try on me fails pathetically. I'm more powerful, more influential and more fabulous than ever before, and this book is the moment Milo goes mainstream. Social justice warriors should be scared — very scared," he said.
Well, we'll see how far the mainstreaming of Milo goes. It is true, though, that the crybullies who have been trying to destroy him have been unable to lay a glove on him. Even having him booted off Twitter hasn't really slowed him down. Everything they do to try to stop Milo just makes him hit back harder. Personally, I like Milo for the reason Abraham Lincoln said he liked General Grant. He fights. Milo's book,
Dangerous
, is available for pre-order and will be released on March 14. 2017. And, thanks to all the progressive crybullies running around with their hair on fire, it's already a #1 Amazon best-seller.
Books By Morons
Laura
, a new (to me) lurkette author just showed up on our GoodReads group. She is the author of the 'Waking Late' series, which she calls a "space opera...a space marine trapped on a lost, medieval colony planet." The first in the series is
Sleeping Duty
:
Gilead Tan and Andrea Fielding survived their stint in the military, got married, signed up to emigrate to a terraformed colony world, and went into cold sleep for the journey from Earth. While they slept, the starship went through a wrong fold in space and settled for a different world, a wild world. Three centuries after the founding of a colony on the uncharted planet, Gilead awakens to find humanity slipped back to medieval tech and a feudal structure. Worse, the king who wants Gilead awake won't let Gilead awaken his wife.
Out of the Dell
is the second book in the series. Laura is also the author of
Manx Prize
, a science fiction novel about solving the problem of orbital debris:
It's the second half of the twenty-first century, and mankind has reached Earth orbit but not much farther. Orbital debris is a by-product of the industrial activity, and it's dangerous both to everyone up there and the bottom lines of the corporations offering a prize to get rid of it. Charlotte heads up a team chasing the Manx Prize for the first successful, controlled de-orbit of a dead satellite. To win, she and her team must out-think and out-engineer a cheating competitor, dodge a collusive regulator, and withstand the temptations offered by a large and powerful seastead.
I always thought that stuff would burn up in the atmosphere as their orbits slowly decayed, but apparently not.
According to Laura's blog
, she used to be a lawyer with the Federal Aviation Administration, and she worked for many years on issues involving commercial space transportation. So when she writes about the difficulties and expense of getting payloads into orbit, and what happens when you succeed in getting them up there, she knows whereof she speaks.
The 2016 Book Threads
As is my annual custom, here is a collection of links to every 2016 book thread. What makes this book thread work is you morons, your knowledge, and your book recommendations. Especially your recommendations. So if you ever find yourself looking for a good book to read, you can start clicking on these links and you will be provided with a yuuuge quantity of recommendations you can peruse. Also, I would like to thank ace for letting me hijack his audience every Sunday. I never asked him, I just sort of muscled my way in, which is very presumptuous on my part if you think about it. But I love this Smart Military Blog™, and I feel honored to be able to provide content. Also, I love you 'rons and 'ettes, and I love the community we've built here. I know that 2016 was a rough year for us, and I'm sorry for the people we've lost. But even though the Good Ship AoSHQ was pounded by fierce storms, we came finally through them all, the seas look smoother ahead, and Hillary Clinton will never be president.
Book Thread 01-03-2016
Book Thread 01-10-2016
Book Thread 01-17-2016
Book Thread 01-24-2016
Book Thread 01-31-2016
Book Thread 02-07-2016
Book Thread 02-14-2016
Book Thread 02-21-2016
Book Thread 02-28-2016
Book Thread 03-06-2016
Book Thread 03-13-2016
Book Thread 03-20-2016
Book Thread 03-27-2016
Book Thread 04-03-2016
Book Thread 04-10-2016
Book Thread 04-17-2016
Book Thread 04-24-2016
Book Thread 05-01-2016
Book Thread 05-08-2016
Book Thread 05-15-2016
Book Thread 05-22-2016
Book Thread 05-29-2016
Book Thread 06-05-2016
Book Thread 06-12-2016
Book Thread 06-19-2016
Book Thread 06-26-2016
Book Thread 07-03-2016
Book Thread 07-10-2016
Book Thread 07-17-2016
Book Thread 07-24-2016
Book Thread 07-31-2016
Book Thread 08-07-2016
Book Thread 08-14-2016
Book Thread 08-21-2016
Book Thread 08-28-2016
Book Thread 09-04-2016
Book Thread 09-11-2016
Book Thread 09-18-2016
Book Thread 09-25-2016
Book Thread 10-02-2016
Book Thread 10-09-2016
Book Thread 10-16-2016
Book Thread 10-23-2016
Book Thread 10-30-2016
Book Thread 11-06-2016
Book Thread 11-13-2016
Book Thread 11-20-2016
Book Thread 11-27-2016
Book Thread 12-04-2016
Book Thread 12-11-2016
Book Thread 12-18-2016
Book Thread 12-25-2016
On the other hand, for all the talk of 2016 being a bad year, consider: 1. Hillary lost.
2. The Cubs won.
3. The MSM beclowned itself so thoroughly during the election that it may never recover.
4. Even before taking office, Trump is pantsing the opposition.
5. Gawker was sued into non-existence.
6. Rolling Stone may follow.
7. Fidel Castro relocated to warmer climes, where he is being repeatedly ravaged by the barbed you-know-what.
8. Brexit passed.
9. The progressive left is continuing to lose its sh*, daily (see #4).
10. And of course, Hillary Clinton will never be president. So, win.
___________
Moronette 'votermom' is putting together a list of moron authors over on the Goodreads site which is intended to be accessible to non-members.
Here is the list she has compiled so far
. Let her know if there's an author she's missing. http://www.bookhorde.org/p/aoshq-authors.html
___________
Don't forget the AoSHQ reading group on Goodreads. It's meant to support horde writers and to talk about the great books that come up on the book thread. It's called AoSHQ Moron Horde and the link to it is here:
https://www.goodreads.com/group/show/175335-aoshq-moron-horde
.
___________
So that's all for this week. As always, book thread tips, suggestions, bribes, rumors, threats, and insults may be sent to OregonMuse, Proprietor, AoSHQ Book Thread, at the book thread e-mail address: aoshqbookthread, followed by the 'at' sign, and then 'G' mail, and then dot cee oh emm. What have you all been reading this week? Hopefully something good, because, as you all know, life is too short to be reading lousy books.
Posted by: OregonMuse at
09:06 AM