Sunday Morning Book Thread 12-18-2016: Aftermath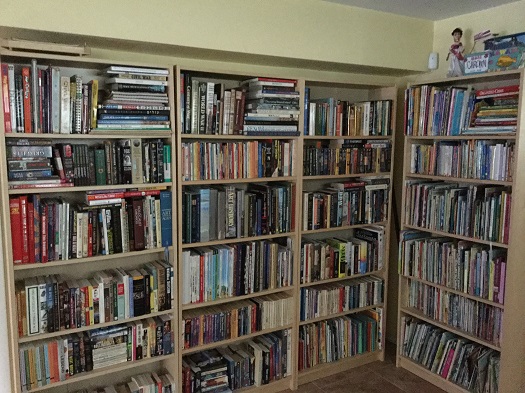 Library of Lurkette 'swim mom'
Good morning, it's another beautiful day at AoSHQ's stately, prestigious, internationally acclaimed and high-class Sunday Morning Book Thread and continual soiree, where men are men, all the 'ettes are impossibly attractive,
safe spaces
are underneath your house and are used as protection against actual dangers, like tornados, hurricanes, phaque knooze, and Russian hacks, where special snowflakes do not get respect, but instead, belly laughs. And unlike other AoSHQ comment threads, the Sunday Morning Book Thread is so hoity-toity, pants are required. Even if it's
these pants
, which you can find in the dictionary under the word "gay."
Pic Note
Lurkette swim mom tells me:
As a teacher for 30 years, I've amassed a lot of books. The 2 photos I have here show the reading corner in my rec room and a separate 12x16 square foot outbuilding for approximately 5000 books. These shelves are 2 deep.

There's also books in both bathrooms, the guest room and my daughter's room, not to mention, another 12x16 outbuilding that serves as an office. Too many spots to photograph.
Here is a
panoramic wide shot
of another section of swim mom's library, just to give you an idea of how yuuge and luxurious it is.
Reading Recommendations from 'Mad Dog' Mattis
I heard from a lurkette last week who wrote:
With the recent news of General James "Mad Dog" Mattis as President-Elect Trump's choice for DOD secretary, and the multiple mentions of the general's 6,000-book library, I started to wonder what the Warrior Monk had read.
Another 'ette, All Hail Eris, suggested I post a pic of Mattis' library (reputed to be over 6,000 volumes, all of which he takes with him from post to post), and I'd love to do so, but unfortunately have not been able to find one. Lurkette pointed me to
this article
from the Small Wars Journal site. From 2007, it is then-Lieutenant General Mattis' reading list, for all grades of officers.
Due to the time period, there is an understandable focus on the Middle East and Afghanistan. The list links to some free PDFs, full-price Amazon books, and a few cheap Kindle ebooks. Morons interested in history and particularly military history should have a field day with this list. The one weird name that jumped out at me was Tom Friedman, but I guess if Mattis can read Rommel, he can read Friedman. To paraphrase Bret Easton Ellis, reading a book is not an endorsement.
Also, a site called Military Reading Lists has the same series of books as Small Wars Journal, but with pictures of the book covers:
https://militaryreadinglists.com/reading_list/47-lt-gen-james-mattis
. There is also
a GoodReads list
that includes some classics like
The Meditations
by Marcus Aurelius. So what's on Gen. Mattis' list that might be of general interest. I'm tempted to leave out such narrowly specialized titles such as
Small-Unit Leaders' Guide to Counterinsurgency: The Official U.S. Marine Corps Manual
and
Afghanistan Cave Complexes 1979-2004: Mountain strongholds of the Mujahideen, Taliban & Al Qaeda
, but this being the Smart Military Blog that it is, perhaps I shouldn't. However, there are a couple of fiction books on Gen. Mattis' list. One of them is Steven Pressfield's
Gates of Fire: An Epic Novel of the Battle of Thermopylae
, an historical fiction novel set at Thermopylae in ancient Greece, a narrow pass where 300 Spartan soldiers held off the vast army of the invading Persians, numbering in the hundreds of thousands.
Another (non-fiction) item that looked interesting is Intelligence in War: Knowledge of the Enemy from Napoleon to Al-Qaeda by John Keegan, the defense editor of The Daily Telegraph (UK):
From the earliest times, commanders have sought knowledge of the enemy, his strengths and weaknesses, his dispositions and intentions. But how much effect, in the 'real time' of a battle or a campaign, can this knowledge have? In this magisterial new study, the author of A History of Warfare goes to the heart of a series of important conflicts to develop a powerful argument about intelligence in war. Keegan's narrative sweep is enthralling, whether portraying the dilemmas of Nelson seeking Napoleon's fleet, Stonewall Jackson in the American Civil War, Bletchley as it seeks to crack Ultra during the Battle of the Atlantic, the realities of the secret war in the Falklands or the numerous intelligence issues in the contemporary fight against terrorism.
Lastly, documentation for what pretty much everyone knows, but is routinely ignored by our government:
Hatred's Kingdom: How Saudi Arabia Supports the New Global Terrorism
,
Dore Gold, former Israeli Ambassador to the U.N. and internationally known Middle East expert, uses previously unpublished intelligence documents to piece together the links between the current wave of global terrorism - from the World Trade Center to Bali, Indonesia - and the ideology of hatred taught in the schools and mosques of Saudi Arabia
The book I just completed,
The Looming Tower: Al-Qaeda and the Road to 9/11
says that the reason for this is not that the Saudis are particular fans of
jihad
, but rather out of fear, i.e. they want to be the ones eaten last. So they fund a lot of Wahabist madrassahs and mosques all over the world. And our gov't sort of looks the other way. I wonder how this arrangement will suit President Elect Donald Trump? Lurkette ends with:
This quote in particular from that interview stood out: "... ethical, competent and admired leadership is badly needed nowadays. For young officers, certainly to gain trust and respect from their subordinates. But they also have to be able to gain the affection of their troops. Not popularity - affection." That distinction in itself is insightful if not profound, and seems rife for a long-form Ace essay.
She also mentions that the University of Adelaide runs
a site with free ebooks
that have a cleaner appearance than what Gutenberg offers.
And Now, A Discussion On What Is Appropriate Socialist Literature
Let's listen in, shall we?
The authoress was just saying impressively to her companion: "—ever know a sincere emotion to express itself in a subordinate clause?" "Joyce has freed us from the superstition of syntax," agreed the curly man. "Scenes which make emotional history," said Miss Heath-Warburton, "should ideally be expressed in a series of animal squeals." "The D.H. Lawrence formula," said the other. "Or even Dada," said the authoress. "We need a new notation," said the curly-haired man, putting both elbows on the table and knocking Wimsey's bread on to the floor. "Have you heard Robert Snoates recite his own verse to the tom-tom and the penny whistle?"

Dorothy Sayers
Clouds of Witnesses
This reminds me bigly of the stuff Ayn Rand used to write. Like the phrase, "superstition of syntax", used to mark the degeneration of language. It just sounds so Randian (see Rand's brilliant essay on Helen Keller). And WHAT'S FUNNY ABOUT THIS, as Ben R. might tell us, is that two observers, Rand and Sayers are saying pretty much the same thing about post-modernism while they themselves are completely unalike, philosophically and theologically. In fact, if they ever had met, they'd probably have gotten into a fist fight. I think Rand would've won, being an unbalanced angry loon and all, but Sayers would have been charitable enough to bail her out of jail. And the moral of this story is, post-modernism is never not mock-worthy. (h/t Anonosaurus Wrecks)
___________
Don't forget the AoSHQ reading group on Goodreads. It's meant to support horde writers and to talk about the great books that come up on the book thread. It's called AoSHQ Moron Horde and the link to it is here:
https://www.goodreads.com/group/show/175335-aoshq-moron-horde
.
___________
So that's all for this week. As always, book thread tips, suggestions, bribes, rumors, threats, and insults may be sent to OregonMuse, Proprietor, AoSHQ Book Thread, at the book thread e-mail address: aoshqbookthread, followed by the 'at' sign, and then 'G' mail, and then dot cee oh emm. What have you all been reading this week? Hopefully something good, because, as you all know, life is too short to be reading lousy books.
Posted by: OregonMuse at
09:00 AM