Thursday Overnight Open Thread (12/15/16)
Quotes of The Day
Quote I
Go after a man's weakness, and never, ever, threaten unless you're going to follow through, because if you don't, the next time you won't be taken seriously. Roy M. Cohn US anti-Communist & lawyer (1927 - 1986)
The JEF and the red line comes to mind.
Quote II
We must always remember that America is a great nation today not because of what government did for people but because of what people did for themselves and for one another. Richard M. Nixon
Quote III
You may have to fight a battle more than once to win it. Margaret Thostaer
What did you do today?
Did you spend the day
herding cats? It's National Cat Herders Day.
Cat herding and coblogging are similar. Covered earlier today in Mr. Sefton's Morning Report was the anniversary of the best written document by man.
The Bill of Rights turns 225 years old today.
In the year 2015 nearly 48 million people were affected by Alzheimer's Disease. In 2010, dementia resulted in about 486,000 deaths. Approximately 6% of the population who are age 65 or older are afflicted with Alzheimer's. It seems that everyone knows someone or some family that has an AD patient.
Hope is on the horizon that AD will be manageable in the near future.
Professor De Strooper, in an interview to mark his appointment, predicted it would be possible within a decade to stabilise or partially reverse Alzheimer's disease - even if it proved impossible to cure.
'We won't be celebrating in 2025 that dementia is cured, but I hope that by then there will be groups of patients who can be treated in much the same way HIV/Aids is treated today,' he said.
The ONT certainly hopes so, it is a cruel and unrelenting disease.
Drug overdoses now kill more Americans than guns. The intertwined tragedy -- rising death numbers and public indifference -- are growing, not shrinking. Is legalization the way to go? A surge on the war on drugs? Prohibition of certain legal opiates? The ONT does not have the answer. Although it is a subject worth discussion.
Historical comparisons are difficult, but also foreboding. No society long endures knowing escalation of preventable, intentional death of innocents -- right in its midst. To be clear: If we look the other way, we are also complicit in the crime. Edmund Burke said it, and worth memorizing: All it takes for evil to prevail is for good people to do nothing. What to do? Start caring, learning, understanding and speaking up -- against this accelerating tragedy.
The Police Department of Lancashire, England
has agreed to illegal drug testing booths.
Talk about Protect & Serve.
The police department of Lancashire, a city in northwest England near Manchester, has come to an agreement with a local charity to operate drug-testing booths near dance clubs. Drug takers will be able to test the purity of their cocaine or ecstasy in these walk-in booths, which will look like the RVs used in blood donation drives, without fear of legal reprisal.
Perhaps the Clinton
Money Laundering
Foundation can come to the resuce.
Saudi woman arrested for tweeting without wearing Hefty bag.
When guns are outlawed only outlaws will have
guns
3D printers.
Australian gang busted with 3D printer.
"We've also seized a 3D printer which was used to manufacture some of those firearms, highlighting a significant risk to the community," Superintendent Amy Gledden told reporters on Sunday. "It's relatively new technology and it's been tested in forensic areas in different police agencies and this is one time we've actually seized them in Victoria."
Tonight's Musical Interlude
Quite a few of the Moron Horde lives in snow country. What are your snow removal methods? Plow? Snow blower?
Hoverboard and shovel?
I'm hoping I can get the snow blower working before
I need to invest in rope and remember these rules.
Do you slip and slide in your boots?
Science and winter boots.
When it's really bad, your humble Cob puts on cleats.
8 reasons you must teach CBD your son to cook.
Besides survival, he may have a coblogger job awaiting him someday.
Cooking is not trivial. Observe food stamp recipients' tendency to buy junk food because they simply do not know their way around a kitchen. The young man who learns how to cook well will have mastered a valuable life skill. It doesn't take much time or money—in the end it will save his family both.
The hypocrisy of the Obama administration just oozes.
3% of the eagle population is killed legally annually.
You try killing just one. Let the ONT know how that works out for you. Per Wikipedia:
Criminal penalty The criminal penalty stipulation was increased from a maximum fine of $500 and six months imprisonment to a maximum fine of $5,000 and one year's imprisonment. Furthermore, in the second case of second conviction, the penalty was increased to $10,000 fine and two years imprisonment. The maximum amount of a misdemeanor offense was increased $100,000 under the Criminal Fines and Improvement Act of 1987. In addition, $250,000 will be fined for an individual for a felony conviction. Respectively, $200,000 and $500,000 will be fined in case of an organization for a misdemeanor and felony conviction.[2] Civil penalty The civil penalty provision was added, stating anyone who takes, possess, transports, sells, barters, or purchases any dead or alive bald or golden eagles will be fined $5,000 for each violation. In addition, he or she who violates or disturbs any egg or nest will be fined under the civil penalty act. The act allowed the taking, possession, or transporting of the bald and golden eagles in areas where they were endangering wildlife and livestock.
Kids will be kids.
You can be one too at The Group.
News clippings, loose change and recycled Christmas cards can be directed here.
Tonight's Runner up 2nd Place Genius Award Winner
The Genius Award Winner.
The Feel Good Story of The Day
Tonight's ONT has been brought to you by Joy.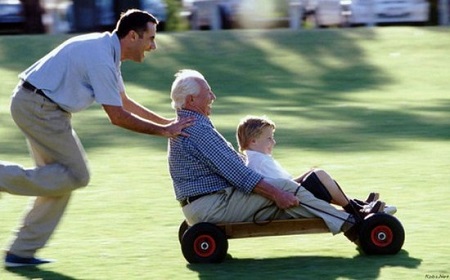 Posted with permission by AceCorp, LLC. DO NOT USE THE ONT if you are allergic to any ingredient in the ONT.
Posted by: Misanthropic Humanitarian at
10:03 PM