Food Thread: La Cuisine De L'Amérique Est La Meilleure Du Monde
The neo-luddites are at it again...demanding that we raise chickens the way they think they should be raised. You know, the way six-year-olds want the world to work.
California and Massachusetts (See! Red Sox fans are just incredibly...uh....stupid) are leading the way in the fight against perhaps the most incredible success story of the modern era, the ability to feed the world.
Can Egg Producers Recover from November's Great Fall?
That "fall" being stupid laws intended to make rich liberals feel good about themselves as they buy $5/dozen eggs. Of course it's not the 1%ers who suffer from rising food prices, and it isn't even much of America. But the people on the margins -- those who struggle to survive -- they are the ones who suffer and in some cases die. So hipsters with more money than sense can virtue signal at the store by buying "Cage Free" eggs, even though caged hens might very well be safer and happier and healthier than their uncadged counterparts. But by all means, anthropomorphize your food sources! The Unicorns And Flowing Meadows And Sweetness And Light World: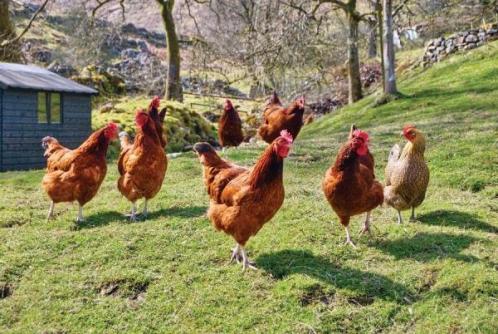 This is what the idiots who buy the hype of free-range/responsibly grown/cage-free imagine the life of chickens from their favorite purveyors. The Reality-Based World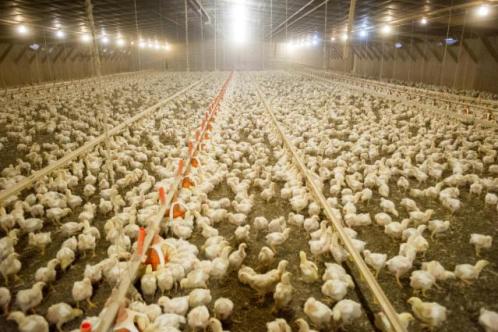 This is what it's really like, and actually, I couldn't find a more realistic photo. But these are animals, and their purpose is to feed us. Should we try to make their lives are as pain free as possible? Of course! But I would take a flame thrower to that flock to save the life of one human.
******
From commenter "Donna," of ampersand fame..... So, this guy is an accomplished writer, but unfortunately for him began life as a frog. But he saw the error of his ways, no doubt in part because he realized that damn! American food can be great! Anyway, he waxed poetic about our grub:
Ted Morgan
(the former Viscount Sanche de Gramont) prefaced the list by saying this:
"There is a great American cuisine, based not on fancy sauces but on matchless and fresh ingredients. The best trout dish is not the pretentious and flavor-disguising 'truite amandine,' but the trout that is fried in butter five minutes after it has been caught.
Ten Matchless American Things to Eat and Drink
1.
Virginia Ham (superior to jambon de Bayonne)
2.
Maple syrup
3.
Jack Daniels sour mash whiskey (better than many cognacs as an after-dinner drink)
4.
Soft-shell crabs
5.
Florida pompano, perhaps the best saltwater fish in the world (avoid sauces - a dab of butter, a pinch of paprika and lemon pepper, and under the broiler)
6.
Bay scallops, so delicate they can be eaten raw
7.
Sweet corn, the Indian's greatest gift to the white man.
8.
Grain-fed U.S.D.A. prime beef, finely marbled, and far superior to grass-fed Scotch beef and improperly aged French beef.
9.
The Idaho potato, the best in the world, worth presenting in a Tiffany case
10.
California wines, the finest of which, in recent international blind tasting (bear in mind, Morgan wrote this in 1978 ) have consistently won out over their French counterparts. I could quibble with the order of the list, and Jack Daniels simply does not belong, but the point is well taken. American food is marvelous...certainly on par with the best that France has to offer. In particular I direct your attention to American beef, which is without peer. I have a bunch of French relatives, and whenever they come to America they want steak! And lobster (because it is obscenely expensive in France).
******
Your Beverage Coaster Probably Came from This Small Town in Germany
The factory, in the town of Weisenbach, population just north of 2,500, is the headquarters and main manufacturing center for the Katz Group. Each day, it receives lumber at one end and puts out beer coasters on the other -- by the millions. The company produces 75 percent of the world's beer coasters, according to its own statistics, accounting for 95 percent of the American market.
I like coasters much more than those silly bar napkins, which actually irritate the shit out of me. Uh...folks, drinks tend to be cold, and condensation will always be a problem. Sure, if you are drinking shots the napkin is functional, but a tall beer on a hot day is a disaster waiting to happen. And coasters allow one to practice hand-eye coordination with the old bar game of flipping it off the edge of the bar with the backs of your fingers and catching it in mid-air. It's good training for the Zombie Apocalypse!
******
This is a great summer dressing, poured over fantastic fresh tomatoes! Well, it's December, and great tomatoes exist only in our imaginations, so use it for salads or even on sandwiches instead of plain old mayo.
Basil-Buttermilk Dressing


2 Cups Packed Basil Leaves

3/4 Cup Buttermilk

2 Green Onions, thinly sliced

3/4 tsp. kosher salt

3/4 cup Mayonnaise
1/2 tsp. pepper
Blend the basil, buttermilk, sliced green onions and salt in a food processor or blender until smooth.
Transfer to bowl, add mayonnaise and pepper and whisk until smooth.
Let stand for 30 minutes, then check seasoning for salt and pepper.
Shrimp with Ceci Beans and Chiles
1 lb. good quality raw shrimp
1 can ceci beans
1-2 serrano chiles
Juice of one lemon
Extra Virgin olive oil
Chopped flat-leaf parsley
Kosher salt Boil the shrimp until barely cooked. Overcooked shrimp taste like rubber bands, so be careful. Err on the undercooked side and you will be happy. Dump them in ice water to stop the cooking, then peel, cut into chunks a bit bigger than a ceci bean, and stick them in a bowl. Open the can of ceci beans, rinse and drain them, and dump into the shrimp. Now comes the fun part. If you like hot food, simply slice the serranos into thin rings and toss them into the shrimp bowl. If you don't want the sometimes considerable heat from the serranos, you'll have to remove the seeds and veins. But this dish looks great with those cool slices of chile so, using your thinnest bladed knife, slice the tips off the chiles and core them without slicing them lengthwise. It will take a few seconds, and don't forget to wear gloves, or wash your hands thoroughly, or you may experience the joys of a capseicin burn on any mucous membrane you touch. Slice them into those rings I just described and toss them in with the shrimp and beans. Dress the shrimp with the fresh lemon juice, a few tablespoons of olive oil (use something good), the chopped parsley and (this next step is important) and more salt than you might think. The shrimp aren't salty, and the beans aren't salted at all, so the dish will need a healthy dose of kosher salt. Let it marinate for a few hours before you serve it in ramekins. This can be prepared in advance so your guests can enjoy (or suffer) your company.