Sunday Morning Book Thread 10-23-2016: [OregonMuse]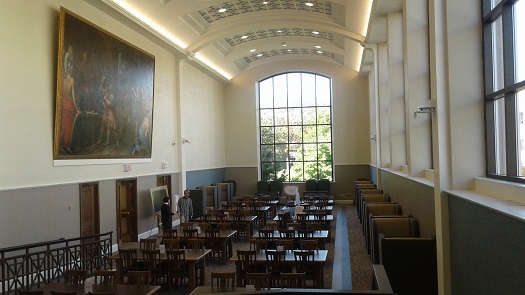 Dugan Polk Family Reading Room, Favley Memorial Library, Villanova University
Good morning to all of you morons and moronettes and bartenders everywhere and all the ships at sea. Welcome to AoSHQ's stately, prestigious, internationally acclaimed and high-class Sunday Morning Book Thread, where men are men, all the 'ettes are gorgeous,
safe spaces
are underneath your house and are used as protection against actual dangers, like tornados, hurricanes, IRS audits, and getting caught in the path between Hillary! and giant bags of cash, and special snowflakes can't stand the heat. And unlike other AoSHQ comment threads, the Sunday Morning Book Thread is so hoity-toity, pants are required. Even if it's
these awful things
. And WTH are they supposed to be, accordion pants? These are the worst pants I've ever seen. If you can find uglier pants, send me the link and I'll use it. Ugh.
Note on Today's Library Pic
This was a submission from longtime moron 'Skip' and what you're seeing is the finished product of a restoration project that he worked on himself. Skip writes:
I worked on about 1/2 the ceiling along with large crew. But the ground area is where I did most of the work, the window sills, baseboard and mid point crown moulding just another guy and me did. The handrail woodwork and underneath woodwork of the railings as well as doors with exception of the single door leading into the library stacks I did myself.
And that painting on the upper left is a 17th-century work by Pietro Berretini (Pietro da Cortona) titled
The Triumph of David
that measures 12-by-19 feet. It shows David bringing back the sword of Goliath, whom he has just killed, to King Saul. This painting itself has been restored, and I found an article about the restoration efforts
here
.
Pop Quiz
OK all you 'rons and 'ettes, what do these words have in common? In alphabetical order, they are: a, am, and, anywhere, are, be, boat, box, car, could, dark, do, eat, eggs, fox, goat, good, green, ham, here, house, I, if, in, let, like, may, me, mouse, not, on, or, rain, Sam, say, see, so, thank, that, the, them, there, they, train, tree, try, will, with, would, you. (Answer below the fold)
Nobel Prize
There's a brouhaha over the 2016 Nobel Prize in Literature, which was awarded to Bob Dylan, "for having created new poetic expressions within the great American song tradition". Meh. I can't get too worked up over it. Poets have won it before, so awarding the prize to a musician who's been writing song lyrics for over 50 years isn't that big of a stretch. I mean, at least they didn't give it to Barak Obama. You know who's got their panties all in a wad about it, though? Why,
the commies at The Guardian, of course
:
Giving the award to any white male writer, no matter what form he writes in, is in no way innovative or inspired. It is simply a return to the status quo – albeit in a different genre.
...

Dylan wins his Nobel in the same year that the prize is not awarded to any women across any of its fields, which seems hardly believable. But what is particularly frustrating about Dylan's win is that it is being packaged as revolutionary, as a means of breaking from tradition, when it is anything but.

Giving the award to yet another white, distinguished male over more qualified women is exactly the status quo. It proves, once again, how the times just aren't a-changin'...

Shorter Guardian:

Actually, I'm old enough to remember when Dylan was considered to be a big-time revolutionary, you know,
bringing an electric guitar to the 1965 Newport Folk Festival
, that sort of thing. He was at the front of the vanguard of the 1960s social revolution. But now we're being told he's just a
status quo
guy, like your boring old, suit-and-tie wearing, working 9-to-5 all week and mow the lawn on Saturday dad. How times have changed.
The Illustrated FAB
What, you say you want an illustrated children's book extolling all the many glorious virtues of Hillary Clinton? OK, then, here you go:
Hillary Rodham Clinton: Some Girls Are Born to Lead
. No, no, please. You can thank me later.
In the 1950s, it was a man's world. Girls weren't supposed to act smart, tough, or ambitious. Even though, deep inside, they may have felt that way. And then along came Hillary. Brave, brilliant, and unstoppable, she was out to change the world. They said a woman couldn't be a mother and a lawyer. Hillary was both. They said a woman shouldn't be too strong or too smart. Hillary was fearlessly. It didn't matter what people said, she was born to lead.
That's right, kids, Hillary is Born. To. Lead. It's funny to see that out of the 100+ reviews on Amazon, they're either 5-star or 1-star. There's hardly anything in between. And if you click over there, you'll probably see some other books devoted to Hillary hagiography, so if you have high BP or a delicate stomach, I suggest you stay here. Of course, those sourpusses over at NRO
didn't like it very much
:
It would be hard to write a fair and compelling children's storybook about Hillary Clinton. Most of her many scandals are unfit for children. Her struggles are largely symbolic, against abstract obstacles such as expectations or criticism, and her actual accomplishments are few. We keep hearing that this woman is the most qualified presidential candidate of our lifetimes, and yet, try as it might, Some Girls Are Born to Lead can't quite hide the fact that her life story isn't much of a story at all.
Geraghty's piece is actually a serious, snark-free (almost) analysis of this children's book. I'm not sure it deserved it. Can't we just throw up and move on?
Bon Appétit
Thanks to moron 'josephistan' for linking, in a thread earlier this week, to
these restaurant menus
replete with hilariously fractured attempts at English, or
Engrish
as it's sometimes called) and some of them are so loony, I suspect photoshop. I mean, come on, "Steamed Red Crap With Ginger"? That has to be fake. And "Cowboy Leg Beautiful Pole"? I don't even want to know what that is, let alone put it in my mouth. Actually, there's not much on these menus I'd want to put it my mouth.
Books By Morons
Moron lurker Gunnar Grey tells me that his
Moronette lurker Gunnar Grey tells me that her little publishing company, Dingbat Publishing, has released a right-wing military science fiction novel back in in August. You know it must be doing something right because it's getting one- and two-star reviews from lefty whiners. The title is
Standing the Final Watch
, by William Alan Webb, and it's the first of a series.
Lt. General Nick Angriff has spent his adult life protecting family and country from a world of terrorism spinning out of control...But when a terror attack on Lake Tahoe kills his family, he's left with only the corrosive acid of revenge… that is, until a hated superior officer reveals the deepest of all secret operations. Against the day of national collapse, a heavily-armed military unit rests in cryogenic storage, to be awakened when needed, and Angriff is named its commander.

Fifty years later he wakes to find the USA destroyed and predatory warlords roaming the ruins. Stalked by assassins bent on seizing his command for their own purposes, Angriff has to prepare for war while avoiding murder.

Kindle price is $2.99.
___________
Thanks to moron Sutton Hoo for alerting me in last week's thread that moronette lurker
artemis
has a new novel out,
Murder in Containment
, the fourth in her 'Doyle and Acton' murder mystery series. In this installment,
Detective Sergeant Kathleen Doyle realizes that several apparently unrelated murders are actually "containment" murders--murders to contain an ominous scandal that could reach into the highest levels of Scotland Yard's CID. In the process of tracking down the killers, however, she comes to the unsettling realization that Chief Inspector Acton has committed a containment murder or two of his own.
Start with
Murder in Thrall
if you haven't read this series.
___________
Adam Piggott
is a longtime moron lurker from Down Under who, for the past 20 years, has lived and worked all over the world as a rafting guide. Some of his many adventures are recounted in his book
Pushing Rubber Downhill: A journey to Manhood Via Whitewater Adventures
:
Always order a witchdoctor from the eastern part of Uganda if you want to get the best results, a predicament that Adam Piggott was not expecting to find himself in when he accepted a job as a rafting guide in deepest darkest Africa. But the unexpected is the new normal when he chucks away his life to ride across Australia on a motorbike chasing a girl, and in the process winds up in situations that he never imagined.
Mr. Piggott also brags of his vast book collection going back many years, and a floor-to-ceiling bookshelf a friend once designed and built for him. I say, pics, or it didn't happen. And I can probably display one of the pics on the book thread.
___________
The Kindle version of longtime moron author Chris Taylor's latest novel,
Life Unworthy
, is currently selling at the reduced price of $1.99. Moron 'cool breeze' reminded me to remind you that this is the November selection for the Horde group read and that there is a discussion thread for it on
the goodreads group
for those who are interested. Which I can't link to, because you need to be a member to participate. It's also available
in paperback
.
Pop Quiz Answer
These words, and only these words, appear in the Dr. Suess book
Green Eggs and Ham
. The position of the words "green" and "ham" appearing right next to each other in the list was a serendipitous hint. And according to
this article
, the book was the result of a bet:
"In the right hands, the most ordinary things can take on extraordinary meanings. "The Cat in the Hat" came about when Dr Seuss was asked by William Ellsworth Spaulding, Houghton Mifflin's education director, to compose a text for six-year-olds using a lexicon of only the 348 words they should developmentally know."The Cat in the Hat" uses 223 words that are on the list and 13 that are not.It had sold more than 10.5 million copies by 2007.Random House publisher Bennett Cerf then bet Seuss $50 he couldn't do a book in just 50 words. The result was "Green Eggs and Ham," one of the weirdest, most delightful books around."
The more you know...
___________
Don't forget the AoSHQ reading group on Goodreads. It's meant to support horde writers and to talk about the great books that come up on the book thread. It's called AoSHQ Moron Horde and the link to it is here:
https://www.goodreads.com/group/show/175335-aoshq-moron-horde
.
___________
So that's all for this week. As always, book thread tips, suggestions, bribes, rumors, threats, and insults may be sent to OregonMuse, Proprietor, AoSHQ Book Thread, at the book thread e-mail address: aoshqbookthread, followed by the 'at' sign, and then 'G' mail, and then dot cee oh emm. What have you all been reading this week? Hopefully something good, because, as you all know, life is too short to be reading lousy books.