Overnight Open Thread (9-06-2016) [CBD]
You too can climb Everest in the comfort of your assless chaps and a good beer!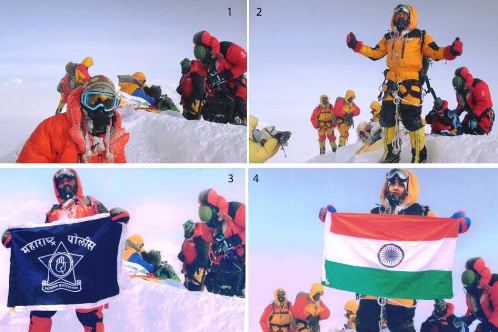 Nepal bans Indian police pair for 'fake' Everest climb
A government investigation concluded on Monday that photographs purporting to show the pair at the top of the world's highest mountain were faked. Officials say the ban is intended to deter other climbers from making spurious and dishonest claims. The pair's claims to have reached the peak in May were queried by climbers. They argued that photos showing Dinesh and Tarakeshwari Rathod at the summit were obviously doctored.
******
Scott Johnson over at Powerline is putting his money where his mouth is, and it's a lesson for me. It's easy to spout off about boycotting those institutions and people whose hectoring and dangerous politics are, supposedly, intolerable. It's something else altogether to actually act! But
My opening farewell reconsidered
is exactly that....
Another song or two into the set, after an incredibly hot performance of "I Can't Help You Now," Raitt plugged the senatorial reelection campaign of Paul Wellstone. Wellstone tragically died in an airplane crash within days of the election. At the time, however, I was pulling mightily for Norm Coleman to defeat Wellstone in the upcoming election and disappointed that I had shelled out hard-earned dollars for the privilege of being lectured by a political moron. I walked out of the show a half hour into Raitt's set and resolved never to return.
******
I don't know what to say. It's like those little snail shells filled with tons of butter, garlic and parsley with a tiny snail. Only large and with pork. H/T
NDH
******
Here's what's wrong with science. E.O. Wilson needs to shut the fvck up and stick to ants. When scientists take political positions it should call into question the research they have done. Clearly Wilson is a partisan, so why should I assume that his life's work is without bias?
The "Father Of Biodiversity" Fears Trump And Nuclear War More Than Climate Change
It's a HuffPo link, so really....don't bother. And I can't excerpt, because HuffPo coded their page to prevent cutting and pasting. So definitely don't click the link. In fact, cast it from your thoughts....forever.
******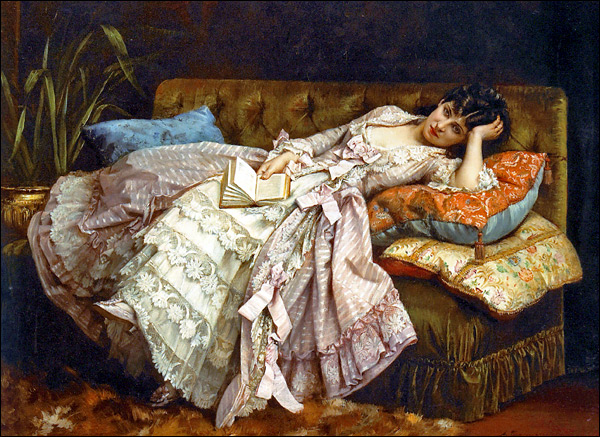 Auguste Toulmouche, Sweet Doing Nothing, 1877
This painting has nothing to do with the linked article,
from Woodpile Report,
but the young lass is particularly fetching, and the languid come-hither look is rather pleasing.....and is that a bit of cleavage I see?
If you doubt the University of Colorado is where the Age of Enlightenment goes to die, where enstupiding is revered and enforced, see this: "The point of departure for this course [Humanities 3990] is based on the scientific premise that human induced climate change is valid and occurring. We will not, at any time, debate the science of climate change, nor will the 'other side' of the climate change debate be taught or discussed in this course. Opening up a debate that 98% of climate scientists unequivocally agree to be a non-debate would detract from the central concerns of environment and health addressed in this course."
******
The Campus Left and the Alt-Right Are Natural Allies
, which from an anti-freedom perspective makes perfect sense.
But what if instead of thinking of the campus left and the alt-right as mortal enemies, each bringing out perpetually heavier firepower in a long-running war of attrition, we thought of them as allies in a battle for the fate of liberalism? Because despite what they might say about each other, the radicalisms of 2016 actually align with one another more than they align with the Anglo-American Enlightenment tradition that has always occupied the American political center.
This ONT brought to you by peanut butter-banana-bacon sandwiches....
©2033 by AceCorp LLC. All Rights Reserved. All employee cages are cleaned on Sunday evening. Anything left over the weekend will be given to the chef.
Supple Leopard
TM
Yoga pants are now available in XL and XXL only.