Sunday Morning Book Thread 08-28-2016: Stepping On Your Own [OregonMuse]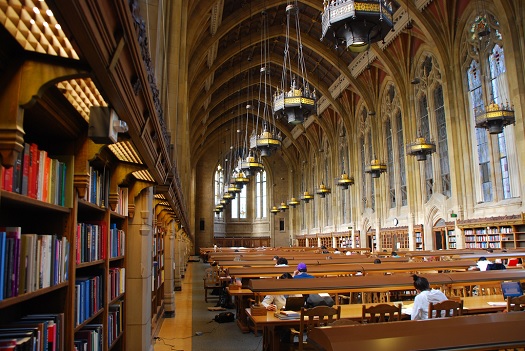 University of Washington's Suzzallo Library Graduate Reading Room
(Look at that pic. Go on, click on it.
It doesn't seem likely to me that that building started out as a library, much less a "graduate reading room". I wonder if UW acquired a church building and re-purposed it. That makes me sad. But, library. So that's not so bad. On the other hand, it could've been worse. It could've been re-purposed as a mosque.
Update
: It has always been a library. Thanks to the many morons for the correction.)
Good morning to all of you morons and moronettes and bartenders everywhere and all the ships at sea. Welcome to AoSHQ's stately, prestigious, internationally acclaimed and high-class Sunday Morning Book Thread, where men are men, all the 'ettes are gorgeous,
safe spaces
are underneath your house and are used as protection against actual dangers, like tornados, and snowflakes soon dissolve. And unlike other AoSHQ comment threads, the Sunday Morning Book Thread is so hoity-toity, pants are required. Even if it's
these
.
"Children are made readers on the laps of their parents,"
--Emilie Buchwald.
Hugos and Puppies and CHORFs, Oh My!
So
this year's Hugo Awards
have come and gone, and apparently it was kind of an "Empire Strikes Back" event. All the SJWs are in the throes of ecstasy because few, if any, of the Sad Puppies candidates won. Also, the 'Best Novel' category was won by
The Fifth Season
, written by N.K. Jemison, who is, from what I hear, the SJW's SJW. Yay, diversity! Boo, evil white men! So all the progressives are jumping with joy and spraying each other with champagne over their great victory over the Sad Puppies, but they don't understand they've already lost, and in fact, they lost several years ago. Larry Correia did not start the Sad Puppies merely to provide an alternate slate of choices for white guys. His purpose, as he has explained over and over and over again, was to prove a point. He had publicly stated that (a) science-fiction publishing has for years been dominated by a small, inbred SJW clique that act as gatekeepers that keep out conservative-leaning authors and (b) this same inbred clique runs the Hugo awards. And then all the SJWs went bananas trying to keep the SP choices off the ballot, and then when they couldn't do that, they told all of their friends not to vote for them, or to "No Award" the entire category. Apparently, they didn't realize that these concerted efforts only served to prove Correia's point that the Hugos were run by and for an small, inbred clique of progressive CHORFs
*
And now that Correia's supposition has been amply demonstrated, anything else is just icing on the cake. The existence of the "Rabid Puppies" slate confuses things a bit, but Correia's original point still stands. In fact, Correia was not part of the Sad Puppies this year, and I rather think his direct involvement with it is pretty much a thing of the past. This year was another opportunity for the inbred SJWs to beclown themselves yet again. Which they did superbly, with all their hollering about "white male privilege". They failed to pay attention to the fact that this year the Sad Puppies were managed by women authors: Kate Paulk, Sarah Hoyt, and Amanda Green. You couldn't do better than read
Correia's take on the 2016 Hugos
:
Funny. When I started Sad Puppies four years ago, the narrative was all about how the Hugos were a celebration of what was great, representing the best of all of fandom. I said nope, it is decided by cliques, ass kissing, and politics. They called me a liar. Fast forward to now, and at least they are open it is all politics. Hell, they're celebrating it.
Correia has the inbred SJW clique so spooked, they're kicking their own butts.
--------------------------
*
Cliquish, Holier-than-thou, Obnoxious, Reactionary, Fanatics.
Alt-Hugo
I've mentioned the
Dragon Awards
as an alternative to the Hugos before, but they come from DragonCon, which
votermom reminds me
...is a huge mult-genre fan convention that has run every year in Atlanta, Georgia since 1987. They have gamers, bookworms, comic geeks, fans of all sorts and they bill themselves as "the largest multi-media popular convention focusing on science fiction and fantasy,gaming, comics, literature, art, music, and film in the universe!" I'm not sure what their exact attendance was last year, but I know it was more than 60,000!
The inbred SJWs are trying to turn the Hugos into a politically correct showcase of what they think you should read. The Dragons, on the other hand, are trying to be about what science fiction fans actually like to read. Voting closes at the end of this month so act soon. You will need an email address to
register
, then they send you a ballot. I'm typing this on Wednesday afternoon, and I just took a pause to follow the link provided by votermom, and it took me all of 2 minutes to fill out a minimal form, send it in, and hit the confirm link in the e-mail. It's easy and, best of all, it's FREE. According to a message displayed at the confirmation link, the next batch of Dragon ballots goes out on Monday, so if you get your requests in today, you'll make the deadline. Again, voting ends on August 31st, so there's not a lot of time left. I remember reading a Greek myth where the hero (Theseus? Heracles?) had to fight a giant scorpion and he managed to defeat it by getting it to sting itself over and over again. This is kind of what Correia and Vox Day are doing to the inbred progressive clique that are running the Hugos. This year the CHORFs managed to "No Award"
Jerry Pournelle
. Seriously? Pournelle is a living legend, and they "No Award"-ed him?? In what universe does *that* make sense? The more they turn the Hugos into a PC beauty contest, the more fans will abandon them. The question is, will it be enough to kill the beast? I don't know. A good indicator will be what happens with the Dragon Awards. If, over succeeding years, more and more SJWs start showing up at DragonCon to cause trouble, that would be an indication that the Hugos are dead and the progressive parasites have left the dessicated corpse of the host and are looking for another healthy body upon which to feed.
Call For Submissions
I regularly prowl the internet, looking for awesome library and cool bookstore pics to feature on the book thread. Eventually, I'm going to run out, as there are only so many pics out there to chose from. And there isn't any National Strategic Library Pic Reserve I can tap into. So this is where you come in: send me a pic of *your* library, and I can feature it on the book thread. I know that few, if any of us are going to have libraries like the ones I've been showing, but even a couple of shelves will do. Or, if you have a library in a nice building near to where you live, that qualifies. Pics of finely bound books will also be welcome. Morons send in pics of their pets for the pet thread, and this would be similar. I think it would be fun.
Books By Morons
Moron commenter naturalfake has the third part of his 'Wearing The Cat' series,
Wearing the Cat: Part Three: His Golden Time
, continuing the adventures of Lt. Nick McGill, hedonist who
...is closer than ever to achieving his goal of adding excitement to his life through access to an excess of wine, women, and adventure

Best of all, with the incredibly wealthy Mr Sanbuichi as his new English Student, McGill now has access to the world of the rich, their money, and their fine, fine women. Not to mention the great food and high quality booze...And yet, with his enthusiastic and sensuous response to the fresh and surprising world opening around him, McGill may be missing the most important thing of all.

The quiet, sweet arrival of romance in his life.
The Kindle edition is on sale for 99 cents. And for those of you who've missed them, here are the first two novels in the series,
Flaming Hoops
and
The Fox's Den
.
Moron Recommendations
I find some of my best material poaching other threads. I find these wonderful one-offs like:
58 Sorry for the early OT
Just finished "When Breath Becomes Air"
Holy shit is that a kick in the face. An amazing and profound little book. Intensely moving.

Posted by: Max Power at August 19, 2016 06:12 PM (q177U)
When Breath Becomes Air
by Paul Kalanithi is a best-seller, which is why they're charging 13 bucks for it.
At the age of thirty-six, on the verge of completing a decade's worth of training as a neurosurgeon, Paul Kalanithi was diagnosed with stage IV lung cancer. One day he was a doctor treating the dying, and the next he was a patient struggling to live. And just like that, the future he and his wife had imagined evaporated. When Breath Becomes Air chronicles Kalanithi's transformation from a naïve medical student "possessed," as he wrote, "by the question of what, given that all organisms die, makes a virtuous and meaningful life" into a neurosurgeon at Stanford working in the brain, the most critical place for human identity, and finally into a patient and new father confronting his own mortality.
Sadly, Mr. Kalanithi died in 2015 while working on this book.
___________
This one is a repeat from a couple of years ago, but given the current political climate, it's worth mentioning again. Moronette lurker Anwyn recommends
Bacon and Egg Man
by Ken Wharton, a darkly comic novel that takes place in a United States where "the Northeast has split off from the rest of the United States. The new Federation is ruled by the electoral descendants of King Mike [Bloomberg?], a man who made it his mission to form a country based on good, clean living." The spirit of Prohibition is never really absent from American culture. It just shifted around a bit to prohibit different things. From
Anwyn's review
, the main character, journalist Wes Montgomery, lives
...in the northeast corner of what used to be the United States. New York and its surrounding blue-state cohorts have seceded, and in the resulting Federation, original Bloomberg's original soda ban has led to the illegality of fat and sugar and basically everything that tastes good. The people eat tofu and vegetables and visit the doctor by mandate to have their body fat monitored. Strangely, this has not stopped people from dying of heart attacks or cancer, but nobody seems to grasp the implications of that. Wes lives the life of an average guy who works a job, makes a living at it, and keeps to himself. But he's a drug dealer and a user—not only does he get bacon, eggs, real milk and butter, ribeyes, sausage, and yes, soda for his clients, he eats them himself, cooking them up in a black cast-iron skillet (whose appearance, all by itself, won my heart in the first chapter).

And soon he gets caught.
The Kindle edition is, not bad, $7.99.
___________
What I'm Reading
I've started the historical novel
John the Pupil
by David Flusfeder that I picked up earlier this week for $1.99, and on Friday as I am typing this, that price is still holding. It's kind of like a medieval road movie. It's 1267 and Franciscan friar Roger Bacon, one of Europe's first empirical scientists (back in those days, they called what he studied "natural philosophy") has charged his pupil John (also a Franciscan monk) along with two companions, Brother Andrew and Brother Bernard, to deliver scientific instruments and Bacon's great opus (a book containing pretty much everything he knows) to Pope Clement IV, currently residing in the Italian town of Viterbo. So it's like a road movie. Call it "John and Andrew and Bernard's Excellent Medieval Adventure". The Amazon blurb says
John the Pupil is a road movie,
I thought I just said that.
...recounting the journey taken from Oxford to Viterbo by John and his two companions. Modeling themselves after Saint Francis, the men trek by foot through Europe, preaching the gospel and begging for sustenance. In addition to fighting off ambushes from thieves hungry for the thing of power they are carrying, the holy trio is tried and tempted by all sorts of sins: ambition, pride, lust - and by the sheer hell and heaven of medieval life.
All that, and
a MacGuffin
, too.
___________
Moronette 'votermom' is putting together a list of moron authors over on the Goodreads site which is intended to be accessible to non-members.
Here is the list she has compiled so far
. Let her know if there's an author she's missing. http://www.bookhorde.org/p/aoshq-authors.html
___________
Don't forget the AoSHQ reading group on Goodreads. It's meant to support horde writers and to talk about the great books that come up on the book thread. It's called AoSHQ Moron Horde and the link to it is here:
https://www.goodreads.com/group/show/175335-aoshq-moron-horde
.
___________
So that's all for this week. As always, book thread tips, suggestions, bribes, rumors, threats, and insults may be sent to OregonMuse, Proprietor, AoSHQ Book Thread, at the book thread e-mail address: aoshqbookthread, followed by the 'at' sign, and then 'G' mail, and then dot cee oh emm. What have you all been reading this week? Hopefully something good, because, as you all know, life is too short to be reading lousy books.