Sunday Morning Book Thread 05-15-2016: Involuntary Servitude [OregonMuse]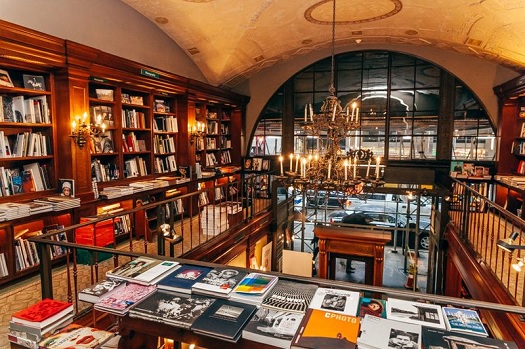 Rizzoli Bookstore, NYC
Unfortunately, this beautiful bookstore
is no more
.
Good morning to all of you morons and moronettes and bartenders everywhere and all the ships at sea. Welcome to AoSHQ's stately, prestigious, internationally acclaimed and high-class Sunday Morning Book Thread, where men are men, space isn't safe, and snowflakes will melt. The Sunday Morning Book Thread is the only AoSHQ thread that is so hoity-toity, pants are required. And if you self-identify as a daisy, your petals must be modest and demure.
Forcing 16-year old boys to read Jane Austen is a hate crime.

Posted by: Ignoramus at May 08, 2016 12:52 PM (bQxkN)
A Modest Proposal
Building on Ignoramus' trenchant observation, how many 16-year old boys are going to understand that Pride and Prejudice is not so much a "love story", but rather pokes fun at
Victorian
Regency-era British courtship mores and customs. The 16-year old response to the first is "who cares?" and the second, "who cares?" As in, who cares if Elizabeth Bennet ever gets together with Mr. Darcy? Ignoramus had actually started out his comment by asking:
What is the right age to give a young male a copy of Flashman? I gave mine to my kid brother when he was 16 and then he read all of them.

Most of my knowledge of 19th century British history comes from Flashman novels.
And voila, the solution presents itself. Give the class a choice of books, either Pride and Prejudice, or one of the Flashman books. You might get some girls crossing over to read Flashman, but I doubt that you'd get any going the other way. Not even
a transgendered teenaged boy in a bikini
.
Game of Thrones Made Easy
Last week, moronette Anna Puma provided a link to
GoT character arc generator
. All you have to do is randomly choose an item from each of 3 columns, and, hey presto, you've got yourself the basis for a new GoT sequel. Now some nerd needs to implement this chart using javascript or Python.
You Will Be Made To Care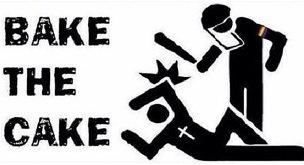 We say that a lot on this blog, and with good reason. There's no longer any such thing as neutrality, at least as far as the culture wars are concerned. You may not be particularly interested in LGBTBBQXYZ rights, but LGBTBBQXYZ rights are interested in you. It's now the title of a book:
You Will Be Made to Care: The War on Faith, Family, and Your Freedom to Believe
by Erick Erickson and Bill Blankschaen. Many people in this country have already been made to care:
The book features first-hand accounts from Christians who've been punished for their beliefs and the perspectives of concerned thought leaders to make the case that Americans of faith can't afford to ignore what's happening -- not anymore.

You Will Be Made to Care offers hope for preserving freedom of conscience with practical steps that believers, families, pastors, church leaders, and citizens can take to resist tyranny and experience a resurgence of faith in America.
Well, I think the jury's still out on that whole "resurgence of faith" thing, at least as far as the United States goes, but it sounds like there are some ideas here you can use to stave of the assaults of the crybullies. By the way, if you're under the impression there's some hope for this in the Libertarian Party, well,
I wouldn't count on it
:
The moderator, John Stossel, then asked whether Jews should have to bake a Nazi wedding cake and Johnson replied, "That's my contention, yes." He then went on to cite the silliest slippery slope argument I have ever heard—and I've heard some silly ones. He actually said that a private utility company might decide to shut off someone's electricity for religious reasons.

Is this really a problem? No really; has this ever happened in the history of the universe? Where do they get these ridiculous scenarios?
Stossel waved this off with a generic
"you know, libertarians disagree on stuff"
observation, and studiously ignored the obvious: that Johnson's stated policy preference was not merely some minor difference in libertarian philosophy, but rather a wholesale abandonment of pretty much everything libertarians claim to stand for. Fortunately, there were other libertarians in the debate who aren't raging statists on this issue like Johnson. But even so, you'd think the Libertarian Party would be up front and center, loudly and insistently defending Christian florists and bakers against the most blatant violations of the 13th Amendment in recent history. But they've collectively been AWOL since the beginning. It's no wonder we're losing so badly on this issue: all we have are lukewarm supporters and uncertain trumpets. And "libertarians" like Gary Johnson who have, in effect, sided with the enemy. I'm waiting somebody else should write a sequel and title it "You're Not Applauding Loudly Enough".
Law of Self Defense
I have just received my copy of the 3rd edition of Andrew Branca's important and useful book,
The Law of Self Defense
. If you have a firearm that you're using for home defense, you should have this book.
Andrew F. Branca, the renowned expert in self-defense law, teaches you how to make quick, effective, legally appropriate decisions in life-and-death situations. His easy-to-understand analysis thoroughly covers the laws of all fifty states. Key legal principles are illustrated with interesting, sometimes heart-wrenching, true life examples of people defending themselves, and how their decisions helped, hurt, or even destroyed their case.
Andrew e-mailed me to tell me about the 3rd edition:
(1) We've updated and/or re-affirmed all the state laws listed in the tables throughout the book (e.g., Alaska was a duty to retreat state in 2013, now it's a stand-your-ground state); we've moved all the tables to the end of the book, to ease reading; we've added new anecdotes and cases that have arisen in the last three years (e.g., the Michael Dunn trial); the simple process of reviewing and re-writing leads to an incrementally better book than the 2nd Edition.

Oh, and we now have a dedicated chapter on what to say (or not say!) to the police in the aftermath of a self-defense shooting.

Oh, and the 3rd Edition will have a foreword by Massad Ayoob.
I'm thinking that the new chapter on how to speak to the police is going to be worth the price of the book. In it, Mr. Branca contrasts the "say nothing" approach, which he argues is sub-optimal, with his preferred "say little" perspective. He provides advice on what to say to the 911 operator, the responding officers, and the investigating officers, and it's different for each, when you should talk, and when you should shut up. I was impressed with Mr. Branca's thoroughness. It looks like he hits every detail and ties down every loose end. Also, Andrew has generously provided a moron discount for us. If you purchase LoSD
from his site
and enter the purchase code MORON, you will be given a 20% discount. And not only on the book. Andrew says the 20% is good for the live seminars, the instructors program, the whole works.
Moron Giveaway
Long-time moron Christopher Taylor is giving all of us a chance to win one of two signed, print copies his first book Snowberry's Veil.
Snowberry's Veil is a departure from the usual world-changing, multi-part fantasy epic, taking a more personal look at a smaller adventure. Instead of saving the world from vast evil, this is a more intimate look at one hero's struggle to survive and help those around him.

Enter a world of strange creatures, magic, and personal struggle; a fight against the harsh wilderness as well as the evil that can lurk within man.

Snowberry's Veil is appropriate for teens and adults.
Giveaway link:
https://www.goodreads.com/giveaway/show/186577-snowberry-s-veil
More info on Snowberry's Veil:
http://alphawolf10.wix.com/kestrelarts2#!snowberry/c1hqc
(it's got an awesome new cover).
Moron Recommendations
A received an e-mail recommendation for
Orphan X
by Gregg Hurwitz by a moron who says it's "good escapist literature." He says this novel serves as
,,,an introduction to a new character, Evan Smoak, trained from a young age to be jack-of-all-trades agent, ostensibly for the government. His mentor is killed, and he strikes out on his own. He is very good at his job. He is very careful about selecting his "clients''. But he becomes suspicious when he gets two client referrals in a brief period of time. He discovers that he is being hunted by anther Orphan. He doesn't know which client might be betraying him, but the hunt is on.
Think of Jack Reacher, but much more lawless, or "Have Gun, Will Travel" (Paladin), or "The Equalizer" on TV. Orphan X is being considered for a motion picture.
Books by Morons
Moronette
Sgt. Mom
wants all of you mornos to know that her latest novel,
The Second Chronicle of Luna City
is now available on Kindle.
Welcome to Luna City, Texas - a small town, rather like the one which almost everyone wishes they lived in, full of mild eccentricity, friendly neighbors and now and again the focus for things like a curse on the high school football team homecoming game, a stolen hoard of 19th century gold coins, where a movie crew is doing locations shooting for a major motion picture, and the little cafe on town square is being run by a runaway celebrity chef ... and then there is the Age of Aquarius Campground and Goat Farm, run by a pair of 60's drop-outs...
Sgt. Mom says "This volume resolves the cliff-hanger ending of the first book - but ends in another cliffhanger, and yes, there is a third book to follow!" The print version should be available early next week on Amazon and also on Barnes and Noble.
___________
Don't forget the AoSHQ reading group on Goodreads. It's meant to support horde writers and to talk about the great books that come up on the book thread. It's called AoSHQ Moron Horde and the link to it is here:
https://www.goodreads.com/group/show/175335-aoshq-moron-horde
.
___________
So that's all for this week. As always, book thread tips, suggestions, bribes, rumors, threats, and insults may be sent to OregonMuse, Proprietor, AoSHQ Book Thread, at the book thread e-mail address: aoshqbookthread, followed by the 'at' sign, and then 'G' mail, and then dot cee oh emm. What have you all been reading this week? Hopefully something good, because, as you all know, life is too short to be reading lousy books.