Overnight Open Thread (3-29-2016)
We who lived in concentration camps can remember the men who walked through the huts comforting others, giving away their last piece of bread. They may have been few in number, but they offer sufficient proof that everything can be taken from a man but one thing: the last of the human freedoms -- to choose one's attitude in any given set of circumstances, to choose one's own way.

-- Viktor Frankl
In a class I attended earlier this semester, a large portion of the first meeting was devoted to compiling a list of rules for class discussion. A student contended that as a woman, she would be unable to sit across from a student who declared that he was strongly against abortion, and the other students in the seminar vigorously defended this declaration.
Also on campus: identitarian hair policing.
Heavy Social Media Users 'Trapped In Endless Cycle of Depression'
The more time young adults spend on social media, the more likely they are to become depressed, a study has found.

Of the 19 to 32-year-olds who took part in the research, those who checked social media most frequently throughout the week were 2.7 times more likely to develop depression than those who checked least often.

The 1,787 US participants used social media for an average 61 minutes every day, visiting accounts 30 times per week. Of them a quarter were found to have high indicators of depression. "One strong possibility is that people who are already having depressive symptoms start to use social media more, perhaps because they do not feel the energy to drive to engage in as many direct social relationships," said Dr. Brian Primack, director of Pitt's Center for Research on Media, Technology and Health. "People who engage in a lot of social media use may feel they are not living up to the idealized portraits of life that other people tend to present in their profiles.

...This would be concerning, because it would imply that there is a potential vicious circle: people who become depressed may turn to social media for support, but their excessive engagement with it might only serve to exacerbate their depression
Related: Prager University - The Unhappiness Equation, U = I - R
Note that social media is a large component of I these days.
Good News: Millennials Bolt From Socialism Once They Become Employed and Start Making Money
As they reach the threshold of earning $40,000 to $60,000 a year, the majority of millennials come to oppose income redistribution, including raising taxes to increase financial assistance to the poor.

...When tax rates are not explicit, millennials say they'd prefer larger government offering more services (54 percent) to smaller government offering fewer services (43 percent). However when larger government offering more services is described as requiring high taxes, support flips and 57 percent of millennials opt for smaller government with fewer services and low taxes, while 41 percent prefer large government.
Stephen Green: Welcome to Post-Modern Warfare Europe
We still call it terrorism but the truth is that Europe is now entering the guerrilla warfare stage of an insurgency.
The worst case -- and least likely -- is Continent-wide guerrilla war, "with all the devastation, mass graves, and ethnic cleansing that implies," as I wrote ten years ago. But today the worst case in more likely than it was just a week ago, before Brussels.

And Europe's best case is a generation or longer of low-grade intifada.
Relations are frozen in 1979, the year that the United States abrogated the U.S.-ROC alliance and broke diplomatic relations with Taiwan, the ostensible price of normalizing relations with the People's Republic of China. Historians still argue over whether this drastic change in policy was necessary to attain what we wanted with Beijing. Doubtless, their final verdict will take account of the fact that a strategic partnership with Beijing was needed to end the war in Vietnam and help arrest Soviet aggression. Decades later, we need all of our Asian friends to help resist Chinese aggression. Yet our Taiwan policy remains largely unchanged.

To be sure, the 1979 congressional revolt against our shift in Taiwan policy led to the ratification of the Taiwan Relations Act, which provided the framework for continued support for the democratic island. But despite profound geopolitical changes since the breaking of relations with the Republic of China, and despite Taiwan's great achievements in building a democratic society and a robust economy, Washington still treats Taipei as a second class global citizen.

There is no reason, legislative or otherwise, to have such abnormal relations with the island. Instead, it is our own stubborn refusal to reinterpret rules we authored unilaterally back when Jimmy Carter was president.
Related: The Chinese Government Tries to Tame Christianity
The Chinese Communist Party once tried to destroy religion. It failed. And today, according to some estimates, there are more Christians in China than Communist Party members. Up to 100 million will be celebrating across China this Easter weekend. But what it failed to destroy, the Party still wants to control. So, an officially atheist government effectively runs its own churches and controls the appointment of its own priests.
California Considering a State-Wide $15/Hour Minimum Wage
A death-knell for rural California. Eventually you'll either be waiting in line or working behind the counter at the local Department of Social Services office.
The same cannot be said of places like Fresno, Merced, Tulare, and other depressed counties that have yet to recover from the devastation of the Great Recession. These are regions with sky-high unemployment and underemployment rates, very little new business investment, and some of the highest poverty rates in the country. As the UC Irvine economist David Neumark has pointed out, wages in some of these areas are so low that a $15 minimum would force employers to raise wages for a majority of their workers, likely accelerating the small business exodus to more prosperous parts of the Golden State, and the manufacturing exodus to more business-friendly states like Texas and Arizona, or to countries overseas. Meanwhile, the cost of living in rural California is so low that it's not even clear why such a radical increase to the hourly wage floor is a priority.
Did Yale Expel a Student to Appease a Lynch Mob?
Max Stern, the lawyer for the expelled Yale basketball captain Jack Montague, has spoken out, announcing that he will sue Yale on behalf of Montague in April, and clarifying some details in the case, including a very surprising one: that the aggrieved female did not file the sexual misconduct complaint. In his telling, Montague had sex with the woman four times and the woman says only the fourth time was non-consensual.

The Stern statement said, "On the fourth occasion, she joined him in bed, voluntarily removed all of her clothes, and they had sexual intercourse. Then they got up, left the room and went separate ways. Later that same night, she reached out to him to meet up, then returned to his room voluntarily, and spent the rest of the night in his bed with him"

The accuser waited around a year to speak to someone from Yale's Title IX office, but decided not to file a complaint with Yale. But the Title IX officer filed a complaint. A disciplinary hearing occurred, amidst a campus frenzy following a survey suggesting that the New Haven campus was a hotbed of violent crime.
College GPAs Now At Record Levels
Everyone's a winner.
The waters of Lake Wobegon have flooded U.S. college campuses. A's - once reserved for recognizing excellence and distinction - are today the most commonly awarded grades in America.

That's true at both Ivy League institutions and community colleges, at huge flagship publics and tiny liberal arts schools, and in English, ethnic studies and engineering departments alike. Across the country, wherever and whatever they study, mediocre students are increasingly likely to receive supposedly superlative grades.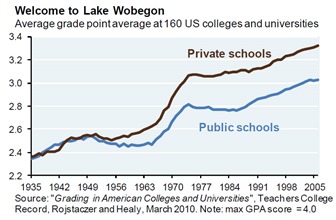 Court Strikes Down Last Handgun Ban in the United States
Michael Bloomberg's Anti-Gun Group Worried That Your Concealed Carry Gun May Not Be Powerful Enough to Stop an Attacker
At least that's how I read their anti-.380 article.
Judge Spares Scottish Drug Dealer From Jail Because He Was Forced to Live in Perth, Australia For Three Years Which Was Punishment Enough
NJ Bill Would Jail People for Texting While Walking
Teen Who Toured and Spoke at a High School While Posing as a State Senator Pleads Guilty
Marathon goes terribly wrong as runners mistake free soap for energy bars
Who hands out bars of soap in the middle of a marathon?
Mystery Meat Found on Several New Hampshire Roads
Chicken, drumsticks, sausage, Angus steaks, pork chops and wild game meats were found alongside several roads in Epping last weekend, according to the Union Leader.

...No arrests have been made at this time, and the motive remains unknown.
The Yahoo group is for closers only.
Tonight's post brought to you by the art of J.R.R. Tolkien: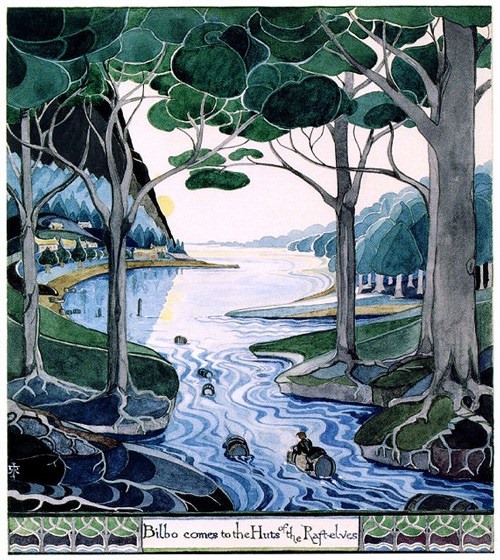 Notice: Posted under the supreme authority of AceCorp LLC. Any reproduction, retransmission or rebroadcast of this ONT without the expressed, written consent of Major League Baseball is strictly prohibited. Don't ask me why.
Posted by: Maetenloch at
11:04 PM