Food Thread: St. Patrick's Day! Corned Beef, Cabbage and Irish Whiskey -- A Moron Breakfast [CBD]
[Politics Thread Below]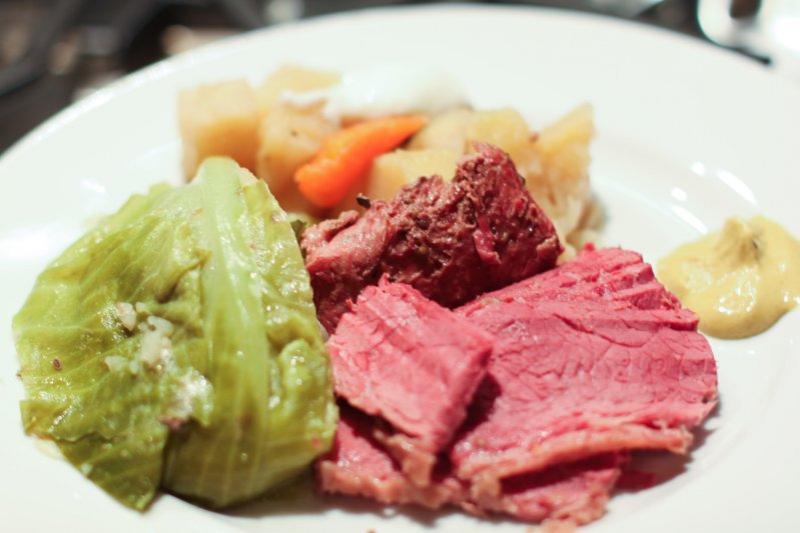 Moronette and foodie Artisanal 'ette has graciously provided some actual content for today's Food Thread, since I have been subsisting on scrounged leftovers and hot tea for the last week. Pro-tip: Don't get the flu.
******
St. Patrick's Day is coming up!
And March 17th is also
Evacuation Day, a State holiday in Massachusetts.
What? Evacuation Day coincides with St Patrick's Day, also on March 17. This gives a reason to celebrate especially as many residents in Suffolk County are of Irish descent. Moreover, the Irish Catholics are remembered on this day for their efforts in helping General George Washington defeat the British soldiers on March 17, 1776. Activities on the day may include Evacuation Day re-enactments, essay contests, and visits to historically significant sites.
******
What makes a traditional Irish bar?
And, if you happen to be in the area...
IRISH BEER AND WHISKEY FESTIVAL!
The Best of Irish beer, live music, artisan food, live six nations rugby, a gaming zone and much more...Come and celebrate St Patrick's Week at the Irish Beer and Whiskey Village in the RDS, Dublin 4. Running for its fifth year -- the Irish Beer and Whiskey Festival is a true celebration of everything Irish -- beer, cider, whiskey, food and entertainment! This festival is totally indoors so you won't need to worry about the weather as you browse the stalls, enjoy some Irish beer, cider and whiskey and soak up the festive atmosphere and live music.
Irish Beer And Whiskey Festival
BEER!
Top 10 Irish Beers -- A 'must-know' list for St. Patrick's Day Read More: Top Irish Beers for St. Patrick's Day |
10 Most Popular Irish Beers
And another list...
BEER!
30 FANTASTIC IRISH BEERS YOU HAVE TO TRY IN 2015 (AS SUGGESTED BY IRELAND'S BEER GEEKS AND EXPERTS)
Oh look...another one!
MORE BEER!
Irish Dry Stout
It's as if the Irish like drinking!
I lived in Dublin for a little while. Was a fun time. Shepherd's Pie is one of those dishes I make with what I have on hand (meats or veggies). I have tried so many variations, I'm not set on one in particular. I finally made that Creamy Roasted Garlic Potato Soup, but cut back the calories by using only 2% fat milk (which is what I had on hand), and skipped the croutons. I used 3 very large heads of garlic for roasting (not elephant, which I learned is not really garlic like garlic is), just very large ones with lots of garlic cloves. After my first bowl I could feel the garlic permeating from my pores and eyeballs! LOL, it was a food experience. Loved it. I wasn't sure about the Herb de Provence as the main herbal flavor, it's not one of my favorite herb blends, but it was a perfect balance of perfume. Very good, thick, hearty soup.
Creamy Roasted Garlic-Potato Soup
Take care.
******
Okay, one little recipe.....Which I may have mentioned already, but beggars can't be choosers.
Roasted Cauliflower with Ketchup
One large head of cauliflower, rinsed and cut into small florets
chopped garlic to taste
Olive oil
Salt and pepper
Ketchup Preheat oven to 425 degrees.
Toss cauliflower, garlic, salt and pepper with olive oil until coated.
Roast the hell out of it until the tips begin to brown.
Toss with a few ounces of ketchup and return to oven until everything has caramelized a bit. One warning: the ketchup at that temperature makes a huge mess. So line the roasting pan with aluminum foil, or make sure it isn't your night to do the dishes.