Overnight Open Thread (3-6-2016)
Government's view of the economy could be summed up in a few short phrases: If it moves, tax it. If it keeps moving, regulate it. And if it stops moving, subsidize it.

-- Ronald Reagan
This was my second time around seeing him in person. My general impression this time was that he presents himself as a genial, very thin, grey-haired grandfather who just happens to be the impeached former president and current leader of a corrupt global foundation. He gave the crowd some personal details. He first met Hillary Rodham 45 years ago this month. She also twice (!) rejected his marriage proposal. Think about how different history would be if he had not proposed a third time.

-- PowerLine's Scott Johnson on seeing Bill Clinton live in Omaha
She was 94 years old. Ronald Reagan was lucky to have met her when he was still relatively young (38 ).
Are We Just in a Wedding Bet Election?
I'd like to believe that all this isn't really just a wager for the usual amount...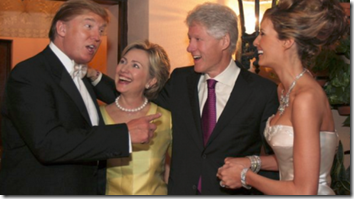 On Donald Trump and the 'Short Fingered Vulgarian' Thing
Back in the 80s Spy magazine used to snark on Donald Trump along with well everyone. But Trump could/can never ignore any criticism of him so of course he always attacked back - which was great for Spy since it gave them something to write about in the next issue and arguably for Trump as well since it got him free national publicity.

One of Spy's amusing but basically throw-away insults for Trump as to refer to him as the 'short-fingered vulgarian'. This would have been forgotten except that it really, really, really, really bothered Trump and lead to him sending various tracings of his hand (in gold sharpie of course) to Spy magazine to refute their claim and I believe at some point even getting a doctor to sign an affidavit that Trump's fingers were in fact normal-sized[never mind I must have misremembered this]. And he's never let it go and apparently still sends occasional pictures with his hands circled to Graydon Carter, former editor of Spy.
Now again all this might have been forgotten except that during the debate last week Marco Rubio referenced (somewhat ineptly) the short-fingered insult from the 80s. And that of course led to this scene and Trump declaring, "My fingers are long and beautiful, as, has been well-documented, are various other parts of my body."
Now to my non-expert eyes Trump's fingers do seem just a little stubby in some photos.  However the Washington Post did a full complete investigation and concluded that while Trump's fingers are not long, as best they can tell short of direct physical measurements they are not short either. So he seems to be mainly the victim of foreshortening. Or perhaps those rumors of finger-lengthening procedures in Asia back during the 90s weren't just rumors...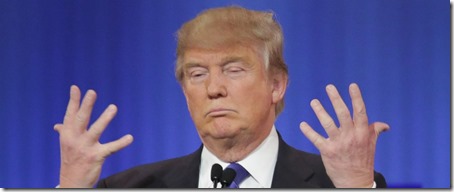 Hillary Clinton Personally Wrote 104 of the Classified Emails on Her Private Server
Later in the campaign there's going to be a lot of obfuscation and modified limited hangouts over how many classified documents were on the server and whether Hillary was ever actually involved or not. And these will all be lies of various forms. Hillary committed multiple felonies in her handling of classified documents either through sheer utter negligence or through deliberate indifference. Not that the reasons why matter in the law or in disqualifying from ever holding any office again.
Related: The Hillary Clinton Video You Will Never Be Able to Get Out of Your Brain
You have been warned.
To Flee Donald Trump's America, It Turns Out That You Will Need The Right Documents
Most countries have similar laws regarding immigrant workers as the US but they tend to actually enforce them. Bad luck for Miley then.
Work visas through a job are likely the most secure option but they're difficult to obtain. The long process starts with applying for a job in your wannabe home. In most countries, the employers must rule out locals who may be better-suited for the job before extending an offer to foreigners.

...Most nations require a foreigner to work for several years before attempting to apply for permanent residency or citizenship. . If you want to go one step further and become a citizen of another nation, get ready for a long road. That requires a lengthy legal process that starts with a temporary visa that turns into permanent resident status.
Also The American Passport Ain't What it Used To Be
If you're American, your nationality will open many doors-but not all of them, according to the 2016 Visa Restrictions Index. The annual list, released by London-based consulting firm Henley and Partners and the International Air Transport Association, ranks the countries that have the most travel freedom, based on how many nations its citizens can visit without a visa or by receiving one after they land. This year, CNN reports, America is in fourth place, down from its first-place ranking in both 2014 and 2015. And the new leader of the pack? Germany.
The Australian Government Has Hired a Buxom and Bubbly Swimsuit Model to Research Sharia Law
Works for me.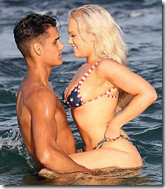 California bill would defund government travel to states with religious freedom laws
But not for legislators like the sponsor, Evan Low (D-Campbell), who apparently are capable of traveling the wastelands of Jesus-love without fear.
Norwegian Test Pilot: The F-35 Can Dogfight and Overall Outperform the F-16
From a pilot apparently with the qualifications and experience to compare to the two. Now I don't know enough to put his report in context with previous negative ones so I'll let you morons figure it out for me.
So how does the the F-35 behave in a dogfight? The offensive role feels somewhat different from what I am used to with the F-16. In the F-16, I had to be more patient than in the F-35, before pointing my nose at my opponent to employ weapons; pointing my nose and employing, before being safely established in the control position, would often lead to a role reversal, where the offensive became the defensive part.

The F-35 provides me as a pilot greater authority to point the nose of the airplane where I desire. (The F-35 is capable of significantly higher Angle of Attack (AOA) than the F-16. Angle of Attack describes the angle between the longitudinal axis of the plane - where nose is pointing - and where the aircraft is actually heading - the vector). This improved ability to point at my opponent enables me to deliver weapons earlier than I am used to with the F-16, it forces my opponent to react even more defensively, and it gives me the ability to reduce the airspeed quicker than in the F-16.

Update: Since I first wrote this post, I have flown additional sorties where I tried an even more aggressive approach to the control position - more aggressive than I thought possible. It worked just fine. The F-35 sticks on like glue, and it is very difficult for the defender to escape.

It may be difficult to understand why a fighter should be able to «brake» quickly. In the offensive role, this becomes important whenever I point my nose at an opponent who turns towards me. This results in a rapidly decreasing distance between our two airplanes. Being able to slow down quicker provides me the opportunity to maintain my nose pointed towards my opponent longer, thus allowing more opportunities to employ weapons, before the distance decreases so much that a role reversal takes place.

To sum it up, my experience so far is that the F-35 makes it easier for me to maintain the offensive role, and it provides me more opportunities to effectively employ weapons at my opponent.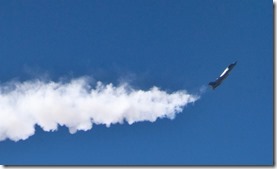 I would have to agree with all of these. Just remember that overrated does not mean bad - just overrated relative to its actual merits.
An interesting look at domestication versus taming and why only some animals are suitable for the former.
Indy Man Falls 11 Stories into Florida Condo Pool
Hefley, a machinist, and his wife, Jamie, were vacationing and visiting friends in Florida when he decided to help a buddy install a tile floor in at a condominium in Panama City Beach.

They'd finished the job and went out onto the balcony. There was a lot of stooping and bending. The work was hard on his back, so Hefley leaned on the railing to stretch.

It felt good, he said, until he leaned a little too far.

"Next thing you know, my feet had come up over my head."

Hefley went over the side. He remembered his nose hitting the balcony deck.

Frantically, he tried to grab something to catch himself. It was no use.

As his body plunged past the balcony railing on the floor below, Hefley said he reached and pushed himself as far as he could away from the building.

He knew there was a swimming pool down below. He just needed to get past the concrete and land the water.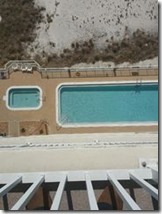 Weekly Commenter Standings
Top 10 commenters:
1 [733 comments] 'artisanal 'ette' [102.89 posts/day]
2 [477 comments] 'redbanzai'
3 [422 comments] 'Skip'
4 [405 comments] 'AlaBAMA'
5 [404 comments] 'Christopher Taylor'
6 [383 comments] 'Ghost of kari - certified inane'
7 [370 comments] 'Tim in Illinois.  Evil SoCon'
8 [348 comments] 'Nevergiveup'
9 [341 comments] 'eleven'
10 [334 comments] 'Pappy O'Daniel'

Honorable Mention:
17 [300 comments] 'ace'
Top 10 sockpuppeteers:
1 [119 names] 'Dondi Rickles' [16.70 unique names/day]
2 [97 names] 'Anderson Cooper'
3 [87 names] 'The Political Hat'
4 [60 names] 'Mimzey'
5 [51 names] 'Hitlery Ono'
6 [48 names] 'all time favorite line'
7 [42 names] 'Cicero (@cicero)'
8 [41 names] 'Prince Ludwig the #Problematic'
9 [39 names] 'Mike Hammer, etc., etc.'
10 [39 names] 'Bertram Cabot Jr.'
The group. Banned on 12 universities.
Tonight's post brought to you by it happens: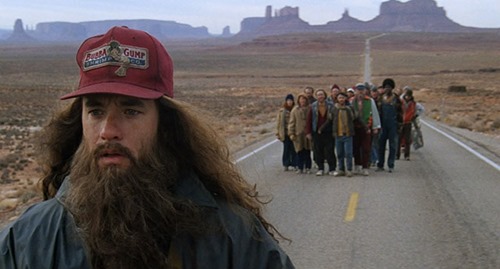 Notice: Posted by permission of AceCorp LLC. Please e-mail overnight open thread tips to someonewhocares at gmail. Otherwise send tips to AcePretendsToCare.
Posted by: Maetenloch at
11:00 PM