Overnight Open Thread (1-11-2016)
Never underestimate the coercive power of a central state in the service of good and wisdom.

-- Governor Jerry Brown, December 7, 2015
There's actually nothing very "civil" about "enforcing civility". Indeed, if civility (which derives from "civis" - citizen) has to be enforced, it is by definition no longer civility at all.

-- Mark Steyn on the German government's clamp-down on anti-immigrant comments on Facebook and Twitter
Sad news. I've always loved his classic hits but because of the sheer variety and volume of his music over the decades, I was still discovering obscure but new-to-me songs of his even up to the last few years. I was always curious to see what he was going to come up with next. Sadly we'll never get to be surprised by him again.
Here's one of my favorite classic Bowie songs:
As Ace has noted one of the nice things about Bowie was that he never become preachy or a celebrity scold and always seemed to have a certain lack of super-star ego to him. In particular he didn't seem to mind people making fun of him or even playing caricatures of himself in other people's works. Here are some clips of him from Zoolander and Ricky Gervais' Extras (thanks to Sonny Bunch):
Age of Miracles and Wonder: Man With a Bionic Penis Will Lose his Virginity to a Dominatrix Who Ran for Parliament
Powerline on Why The Democrats Have Made Gun Control the Top Priority at This Moment
I find this extremely puzzling. We have seen this movie before, and we know how it ends. The Democrats have died on the gun control hill a couple of times already. I understand demagoguing an issue, but don't politicians generally try to demagogue issues that are popular?

...I can think of only two explanations for the Democrats' gun obsession. The first is that they perceive a danger of losing their base, and therefore are pushing an issue that their base believes in, even though it alienates most voters in the middle. If that's right, it is a sign of desperation. The second is that their agenda is so exhausted that they literally can't think of anything better to talk about. I think that might be it: what are Obama and Clinton going to give speeches about to fire up the troops, Obamacare? Immigration? The Iran deal? Unpopular as it is, gun control may be as good as they've got.
Did North Korea Really Set Off a Hydrogen Bomb?
Nate Hale thinks not based on its blast signature and the fact that its estimated yield was less than half of the US Hiroshima bomb. What is disturbing though is the pace that the Norks are improving their technology and the fact that their test caught the US off guard.
Related: Modeling North Korean Negotiators
The North Koreans may know a lot about the outside world, but they don't know everything, even about the United States, their main adversary. In one meeting, an official asked, "Why do the president and secretary of state keep saying that the United States will not allow North Korea to have nuclear weapons when in fact you are not doing much to stop us?" He deduced that there must be a hidden agenda. "It's because you want us to have nuclear weapons as an excuse to tighten your grip on South Korea and Japan, your two allies." We responded that there was no hidden agenda and that the United States really did not want the North to have those weapons. I'm not sure we convinced him.
To recap, China's total debt is about $28 trillion, or roughly half the world's entire debt
Debunking 5 Phony Statistics Liberals Love To Toss Around
One in five college women will still be raped on Superbowl Sunday though.
Swedish Police Accused of Covering Up Sexual Assaults by Immigrants at a Music Festival Last Summer
There were 38 reports of rape and sexual assault filed after the We Are Sthlm festival, which uses the postal abbreviation for Stockholm, in 2014 and 2015, according to police.

...Police would not say how many men had been linked to the alleged assaults, but DN reported that as many as 50 Afghan refugees who had come to Sweden without their parents were suspected to be involved.

Officers had, however, avoided informing the public that they had made this connection, DN said.
Remembering the Boy in the Bubble
The epitaph on David Phillip Vetter's gravestone observes correctly that "he never touched the world." How could he have? From a few seconds after his birth until two weeks before his death at age 12, David lived life entirely in one plastic bubble or another. Touching the world would have killed him in fairly short order. Even his two weeks outside a plastic cocoon were spent in a hospital trying, futilely, to stave off the inevitable.

...But over time, his life came to be fraught with ethical dilemmas. For instance, what if a mature David at some point demanded freedom from his hermetic environment, regardless of the risk? A psychologist who worked with him has recounted how the boy, always cheerful in televised images, sometimes raged off-camera at the terrible hand fate had dealt him.

In October 1983, his doctors tried a new bone marrow technique, one that did not require a perfect blood match. As had originally been planned, Katherine Vetter was the donor. At first, the procedure seemed to work. But dormant and undetected in Katherine's marrow was a virus, Epstein-Barr. It proved to be a killer, the trigger of cancerous tumors that overwhelmed David's body.

At long last, he was taken out of the bubble and treated in a sterile hospital room. For the first time in his life, he was able to receive that most primal of human contacts: a mother's kiss. But the end was at hand. On Feb. 22, 1984, two weeks after leaving the bubble - with a wink to his doctor, William T. Shearer, as a final gesture - David died.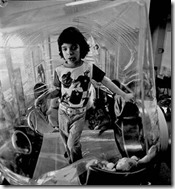 The Future Is Now: Replicant Roy Batty's Incept Date Was 8 January 2016
Interestingly Rutger Hauer basically wrote the tears in the rain speech at the end since he didn't care for what Ridley Scott originally had in the script.
The Literal 'Hole in the Wall' Restaurant in Brooklyn
It serves whatever Caribbean dish the owner has cooked that day and is open whenever there's food and closed when there's not.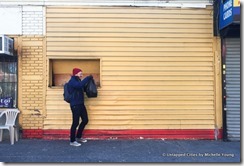 Couple Get Engaged at Wal-Mart, Then Get Accused of Theft
New Jersey Rejects Request For Dolphin Necropsy Results, Cites "Medical Privacy"
No Pascal, not a SNOBOL's chance. Go Forth!
I've always had a certain fondness for SNOBOL since the very first online forum/BBS program I was ever exposed to - circa 1980-81 - was written in SNOBOL and running on a local university Dec-10. And because the source code for it was available students and users could easily make tweaks and add extra features.
The Yahoo AoSHQ group - it's got electrolytes and shit.
And my twitter thang.
Tonight's post brought to you by BEWARE OF GOOSE: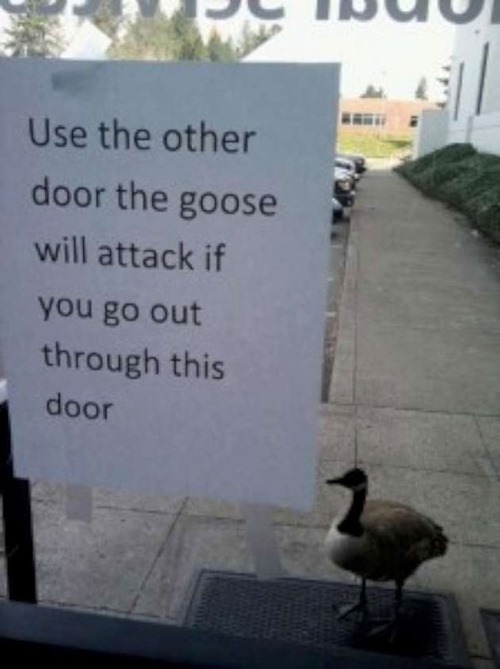 Notice: Posted by permission of AceCorp LLC. No soliciting please.
Posted by: Maetenloch at
10:21 PM