Food Thread: What's Happening In Your Kitchen? [CBD]
Velveeta is one of the 5 basic elements. Interestingly, you cannot impart any permanent change to velveeta. If you melt it, it simply reforms at some later time into the exact same hunk. If you cut it, the pieces will eventually reconnect into the same block of velveeta. Velveeta is and always was and forever will be. Velveeta can be neither created nor destroyed, only transported from one location to another. At the end of time, when the universe has become a quiet soup of goopy entropy, there will be one giant block of velveeta, all of the velveeta there ever has been or ever will be, in one place, waiting for another universe to arise. -- Snoodling World Champion 1997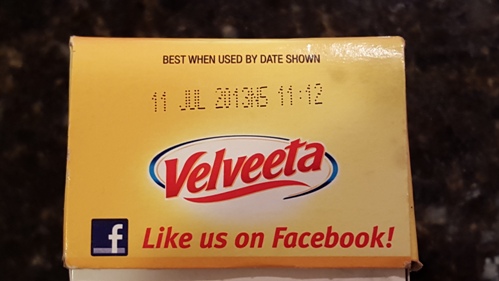 I bought this to make some sort of decadent dip for a Super Bowl shindig, but only needed one of the packages. So...this sat...and sat...and sat. I'm sure it's fine, but I think I will keep it forever, or at least until the Zombie Apocalypse
TM
when we will need to eat. Hmmm....maybe gopher in a nice cheese sauce?
[Addendum]
I'm not making fun of Velveeta, I'm simply amused that I have something dated "Best by 07/11/2013." So what's the oldest stuff in your refrigerator?
*******
Potatoes are a staple in most people's kitchens, and they can get boring. Getting them crispy certainly helps, but deep frying is a mess and stinks up the house. Getting them crispy in a pan is more difficult, so I tried something new, with very good results. I cut the potatoes into bite-sized chunks, then salted them liberally and put them in a bowl with a paper towel in the bottom. They quickly began to give up a surprising amount of liquid, which soaked the towel, and the next towel, and the next towel. After about 30 minutes I dried them as best I could and put them in a medium-hot pan with corn oil and butter, tossed to coat, and them left them alone until they browned nicely. Then I just tossed again, leaving them alone again. After a few times they were beautifully browned on most sides, nicely salted, and ready to eat.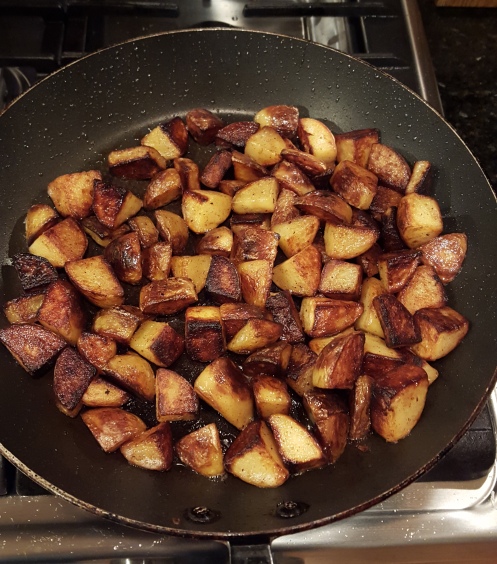 Drying them out a bit really helped them crisp up. This is similar to a French dish called "Pommes de Terre Sarladaise," which is an absolutely decadent dish that requires a bit more prep, and copious quantities of duck or goose fat, butter, garlic and parsley. Here is one simple recipe, that omits butter (typical socialists), but there are thousands, so poke around if you are interested, and find the one that looks the best.

*******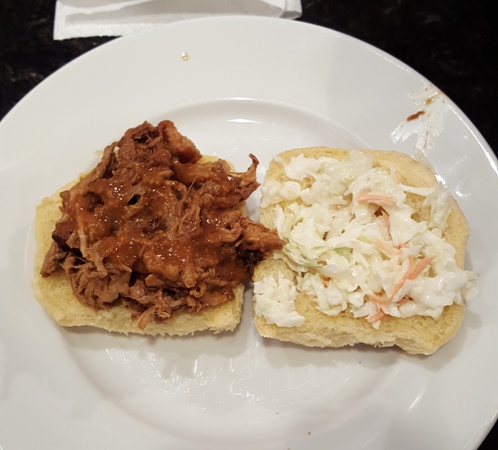 Dinner last night from a recipe I modified to decrease the amount of fat in the sauce. The recipe calls for the deglazed pan drippings poured directly into the sauce base. But I dimly recalled my last experience with this technique not turning out well. So I poured the drippings into a glass measuring cup and allowed them to separate for a few minutes. Wow....lots of pork fat...and clearly too much for the sauce. So I spooned out most of it and it turned out great.
*******
I found this in a throwaway magazine in a dentist's office (I think). I don't remember which magazine, so my apologies. I also may have posted it before, but chalk that up to incipient senility. It is definitely a spice-forward candy, so if you want to back off a bit on the cayenne, or even omit it entirely, go for it. The brittle recipe is excellent in its own right.
Cayenne Peanut Brittle
Ingredients:
• Non-stick cooking spray
• 2 cups sugar
• 1/2 cup corn syrup
• 1/4 cup unsalted butter
• 1 tsp salt
• 1 tsp cayenne pepper
• 1 tsp baking soda
• 3 cups salted dry-roasted peanuts Preparation: Spray your spatula and a large baking sheet with the non-stick spray and set aside for later. With your burner set to medium-high heat, in your large pot combine the sugar, corn syrup, unsalted butter, salt, and pepper. Mix all of the ingredients as they come to temperature and sugar fully dissolves. Bring the contents of your pot to a consistent and gentle boil. Once boiling, insert your candy thermometer and allow the pot to boil until it reaches 300°. Do not stir the mixture during this time. [I don't know why you shouldn't stir it. I do, because I can't resist] It will take a little while to reach 300°, but pay close attention as you'll want to remove it from the heat promptly when it reaches full temperature. Burned sugar = no fun. Remove the pot from the heat and immediately sprinkle the baking soda over the mixture. The syrup mixture is very hot, so be careful in these steps as it will bubble vigorously. Using the wooden spoon, stir the peanuts into the mixture until they are evenly distributed. Carefully pour the mixture into your baking sheet, and using your spatula spread the brittle out evenly over the surface of the pan. Let it cool for about 10 minutes. Once cooled, break the brittle into pieces that suit your preference and enjoy.