Overnight Open Thread (5-24-2015)– Infamous Memorial Holiday Thread Edition
Wow. It's hard to imagine that six (!) long years ago on a night just like tonight that the infamous Memorial Day ONT went down. It shocked even veteran moron-types, brought down anger and pinch-faced scoldery from on high, and damn near got the ONT canceled. And it remains an evening still spoken of in hushed whispers among the morons. No don't bother going to the thread and trying to add your spoor to it - that way leads to a banning.
So in memory of that episode, for tonight only the usual ONT rules are partially suspended.* So curse all you want and empty out that disgusting potty mouth of yours.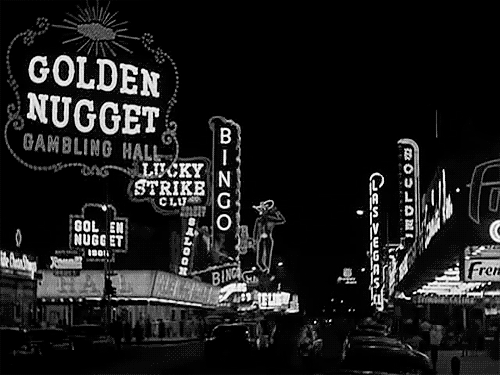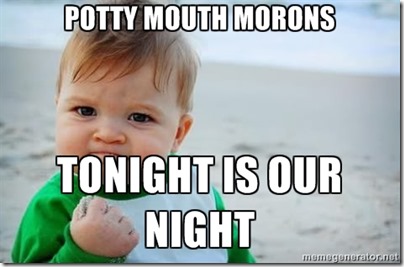 And here's a little help for those of youse looking to class up your weak-ass cursing with some Brit-style potty-mouthing:
The Book of Mormon: The smug laughter of people who don't recognize their own irrational beliefs
What really irritated me was the audience. I thought it a little pathetic that they laughed so uproariously over every poop joke (I stopped doing that when I was 12), but I kind of expected that. After all, I saw the show in San Francisco, which is one of the most densely populated Progressive bastions in America. Progressives, of course, are the Party of Poop, so that humor will inevitably appeal to them.
Well as a confirmed XYer I'm okay with poop humor - when it's funny - but not so much with sanctimony and smugness.
Listening to the audience laughter, I couldn't help thinking to myself, "Stop being so smug, guys. You too have a belief system and it's every bit as ridiculous to an objective outsider as the belief systems driving Mormonism or any other traditional faith.
Note that this entire show is only possible because Mormons are the Other and mainly because they won't kill you (or even be mean to you) for mocking them.
He and his wife were killed in a taxi accident yesterday. And a psychiatrist friend of Steven Hayward points out the many myths built up by the left about John Nash:
Let me try, surely in vain, to set the record straight as there are so many subtle but horrifying myths that the Left has created about Nash to suit their purposes. (1) His name has entered science largely through his theory of balance in conflict-the Nash Equilibrium. The first movie to get this wrong had him as a reclusive professor whose computer, Joshua, arrived at the conclusion, "Don't Play" to avert nuclear armageddon. In fact a stable Nash Equilibrium that averts a nuclear holocaust is attained via Mutually Assured Destruction-peace through strength. This idea was previously lampooned by the Hollywood Left's caricature of Nash's mentor, John von Neumann, the mad man with the autonomous glove in ".How I Learned to Love the Bomb". (2) The bar scene in "A Beautiful Mind" likewise gets it 180 degrees wrong-going for the non-beautiful girl is NOT a Nash equilibrium. The setup cannot produce a Nash equilibrium at all. (3) Nash almost certainly did NOT have "paranoid schizophrenia" as he remained productive until the end. He almost certainly had bipolar disorder, a condition that may yield transient psychotic episodes. I know many brilliant scientists with this condition. He may have been diagnosed with schizophrenia upon his initial admission to Maclean Hospital, but that would have been before Harrison and Pope, at Maclean, in 1984, later reviewed all the previous records and discovered that 50% of such "schizophrenia" diagnoses were in error and were actually manic-depression (bipolar). (3) During his manic/psychotic episodes, Nash would become paranoid (this happens in mania) and would then begin spouting crazed LEFTWING fantasies. When he was normal, he was politically conservative. The movie "A Beautiful Mind" deliberately reversed this because of its obvious implications. (4) To this day, Paul Krugman admires and looks up to Nash-because Nash was in fact von Neumann's heir. Krugman does not allow this to be much known.
Higher Education: Ethnic Minorities Deserve Safe Spaces Without White People
You mean a space where they can be separate...and yet equal? Brown v. Board of Education could not be reached for comment.
When is Increasing Diversity Via Natural Processes So Bad It's Not Even Diversity?
When it involves the wrong kind of people doing the wrong thing for the wrong reasons. Also enjoying soy lattes inappropriately.
Well mostly okay - almost anything goes with a few exceptions.
After years of adding restrictions on potential recruits with tattoos, the U.S. Army has finally relented and as of April 2015 soldiers are no longer limited to how many (and how large) the tattoos they have on arms and legs. There are still restrictions on face, neck and hand tattoos. The latest round of restrictions were imposed in early 2014 and prohibited any tattoos on the head, face, neck, wrists, hands and fingers. Soldiers were allowed a maximum of four visible tattoos below the elbow or knee and there are size restrictions on those. Now one tattoo on a finger is allowed and no restrictions on the arms or legs.
The Modern Puritans: Austin, Texas City Council's War on Barbecue
When talking to Texans, I get the impression that the state in general tolerates - with a certain fond contempt - the People's Republic of Austin largely because the hippies, hipsters, and weirdos at least know how to cook properly**. Taking away the major reason for that tolerance seems. unwise.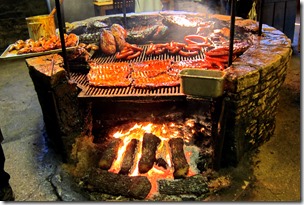 Economists Offer These 10 Career Tips for Today's Graduates
And these are generally good advice for recent graduates though I would only recommend a graduate degree if it's in a STEM area. Otherwise you're likely doubling down on a week hand rather than strengthening it with real world experience and value.
What An Astronaut Sees During an Aborted SpaceX Flight
From a May 6th pad abort test for SpaceX's Crew Dragon spacecraft.
Everybody Needs To Stop Freaking Out About Laundry Pods
Wait did I miss a good freak-out? Ah dammit.
Weekly Commenter Standings
Top 10 commenters:
1 [458 comments] 'Ricardo Kill' [64.32 posts/day]
2 [422 comments] 'Jane D'oh'
3 [344 comments] 'J.J. Sefton'
4 [328 comments] 'Anna Puma (+SmuD)'
5 [298 comments] 'ThunderB, Overly Provocative'
6 [293 comments] 'Mike Hammer, etc., etc.'
7 [277 comments] 'Turd Ferguson'
8 [257 comments] 'RWC - Team BOHICA'
9 [238 comments] 'boulder terlit hobo'
10 [229 comments] 'Bruce But Not Jenner'
Top 20 sockpuppeteers:
1 [128 names] 'The Political Hat' [17.98 unique names/day]
2 [87 names] 'haiku-ku for cocoa puffs'
3 [62 names] 'Turd Ferguson'
4 [44 names] 'the Presidential Proctologist'
5 [39 names] 'Cicero (@cicero)'
6 [39 names] 'Doctor Fish'
7 [31 names] 'Adriane the Firearms Critic ...'
8 [30 names] 'andycanuck'
9 [30 names] 'Art Mullen's Marshal stiffy'
10 [29 names] 'Prince Ludwig the Indestructible '
The group. Banned on 12 universities.
Where it's at - the Twitter
Tonight's post brought to you by Winning: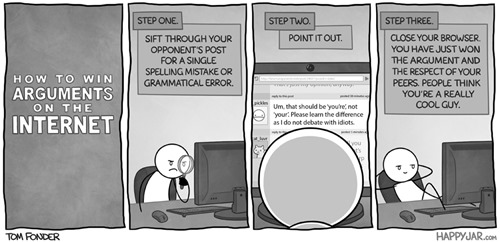 Notice: Posted by distaff permission of AceCorp LLC. E-mail your overnight open thread tips to maetenloch at gmail. Do not bother Ace during the Memorial weekend aestivation period. Fuck you that's why.
* Okay actually most of the usual blog rules still apply - no racial bullshit, no Penthouse Letters shit, and no goddamn harassment of the moronettes.
Posted by: Maetenloch at
10:20 PM