Sunday Morning Book Thread 05-17-2015 [OregonMuse]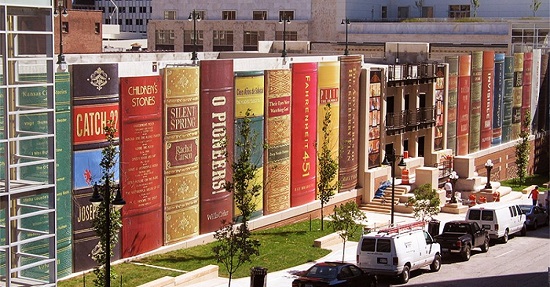 Kansas City Public Library
Update
: Thanks to Muldoon in the comments,
here is the list
of all the books painted on the KC Library facade. Good morning to all of you morons and moronettes and bartenders everywhere and all the ships at sea. Welcome to AoSHQ's stately, prestigious, internationally acclaimed and high-class Sunday Morning Book Thread. The only AoSHQ thread that is so hoity-toity, pants are required. Or kilts. Kilts are OK, too. But not tutus. Unless you're a girl.
Book Quote
There is a great deal of difference between an eager man who wants to read a book and the tired man who wants a book to read.
-G. K. Chesterton
From The Belly of the Beast
I've been having an e-mail conversation with a moron author, a veteran who served in Bosnia and Afghanistan, who wrote a novel closely based on his wartime experiences. I haven't read it yet, but it sounds like it's probably more of an autobiography than a novel, but whatever the case, it's the book he wanted to write. Of course, writing it is one thing. Getting it published is another:
A few weeks ago, I received a message from a literary agent I'd approached who is a 'Nam vet who really liked my book and was interested in representing it. However, there were some things he thought needed to be changed to help get it over with a publishing house. Some of it was formatting-related, however, the rest pertained to key parts of the plot toward the end and I told him that I couldn't alter them because that was the way that things had happened.

As we talked, I told him about Ace's interview with Larry Correia concerning the Sad Puppies controversy in that by pursuing this strategy the publishing houses are ignoring huge markets of people willing to buy books and are cutting their own throats. He broke in saying, "I know, I know...But look...you gotta stop thinking. Just stop thinking! Thinking about all this will drive you crazy! Don't go to bookstores, if they even still have any where you live. Don't look at other books. You'll just wonder how in the world this thing even got published," and then told me some more anecdotes about how the sausage is made...

It was sad. He's a good guy, and was just as frustrated about it all as I am, but he's stuck fighting a bunch of Goliaths who only look for certain types of books (that support the current narrative and are framed by the postmodern cultural marxist analysis of race, gender, class) and is left trying to sneak in what stories he can, however he can.
Of course, none of this is new. I think it was Michael Medved's book
Hollywood vs. America: Popular Culture And The War on Tradition
that pointed out that G and PG movies earn significantly more at the box office than the ones rated R, but the film industry ignores this and continues to crank out the R movies. This author goes on to say he is encouraged by the book thread because he can see morons interested in books that aren't in lockstep with the industry-constricted race-gender-class paradigm, i.e. the "Ministry of Culture". So now here is his book:
Breakfast with the Dirt Cult
, which
chronicles the days of love and war in the life of Tom Walton. Torn between a beautiful, bibliophilic, Canadian ex-stripper and the hunt for Al-Qaeda in the mountains of Afghanistan, Walton finds himself forced to grapple with being a young man in the days of modernity.
The Kindle version is $2.99.
This Summer
I looked through this list of
10 Books To Read This Summer
to see if there was anything interesting. There isn't. Wait, I take that back. I almost overlooked
Seveneves
, the latest from science fiction grandmaster
Neal Stephenson
:
A catastrophic event renders the earth a ticking time bomb. In a feverish race against the inevitable, nations around the globe band together to devise an ambitious plan to ensure the survival of humanity far beyond our atmosphere, in outer space.

But the complexities and unpredictability of human nature coupled with unforeseen challenges and dangers threaten the intrepid pioneers, until only a handful of survivors remain...

Five thousand years later, their progeny - seven distinct races now three billion strong - embark on yet another audacious journey into the unknown...to an alien world utterly transformed by cataclysm and time: Earth.
It's nearly 900 pages long, so you'll be reading this one for awhile.
AoSHQ Commenting Pro Tip
Maybe most of you know this, but in case you don't, you might find this useful. Ever try to post a comment, only to have a page full of python or javascript thrown at you topped with a "Server Error 500" error message in big black letters? Happened to me a few days ago, and I think I figured out why. We've all seen the black diamonds, right? They're caused by certain renditions of the apostrophe, hyphen, single-quote and double-quote characters. There's more than one way to make these characters. The first way is to type them in using your keyboard. The second way is to use certain html codes to generate them. These look slightly different than the keyboard version, and by different, I mean more aesthetically pleasing to the eye" than the keyboard versions, which is why more and more sites are using them. But they're not glaringly obvious, they're very easy to miss. And I get bit by this every week. I do a lot of cutting and pasting from book sites, and pixy's posting software does not let me view what the book thread is going to look like until I actually publish it. And then inevitably I see it peppered with black diamonds and I have to go through the post AGAIN and stomp on them like cockroaches. So if you cut and paste from a page from another site as a comment, chances are you'll be pulling in some of these characters. And if you try to post a comment with one or more of them embedded in the text, pixy's software will barf. Which is at least better than the other thing that can happen, which is you can cut and paste what you think is text, but what pixy sees (and posts) is all the previously-hidden text formatting code and you get a monstrously huge comment -- and an all-expenses-paid trip to the barrel.
Sheesh
Sometimes I wonder why the United Stares still exists, we've got so many feckless half-wits in places of power. Consider
Harold James Nicholson
, a CIA operative convicted of spying for the Russians in 1997. He went to jail for it.
But that's not the end of it
:
[T]he turncoat spy wasn't done giving information to the Russians. His next step was to use his son Nathan Nicholson as a go-between to give them insight into the mole on the Russian side who gave him up via that tip. Amazingly, the father managed to do just that, using a variety of stunningly low-tech ways to sneak information in and out of prison.
Isn't that great? So this traitorous bastard, and his son, managed to make the CIA and FBI look like the Keystone Kops for the better part of a decade. All of this bumbling incompetence is detailed in the new book
The Spy's Son: The True Story of the Highest-Ranking CIA Officer Ever Convicted of Espionage and the Son He Trained to Spy for Russia
by Oregon journalist Bryan Denson. Yes, our country is in the very best of hands.
Moron Recommendations
Thanks to Laura F. who notified me earlier this week that author Zeppy Cheng, after corresponding with several morons, decided to put one of his books up on Amazon. The book is
Dungeons and Diamonds: Press Start
and it sounds like fun:
Mei Sky, the orphaned daughter of a famous dungeoneer, takes on a little too much debt with the elvish mafia. She did it in order to get her sister into a singing audition. Now her sister is in danger of being sold into slavery. Mei does the only thing she can in her situation - she brings up her father's name while bargaining with the elven debt collector. The thug is intrigued. He waves her debt, for the moment, for the promise of a grand prize: the Blue Diamond. The entry price is steep. But Mei is determined.
Right now (Sat. morning), this is book is available on Kindle for FREE, but I don't know long this will last.
___________
George Milonas, author of
The Warrior of God
, also emailed me earlier this week to recommend the novel
Flashback
by Dan Simmons.
The United States is near total collapse. But 87% of the population doesn't care: they're addicted to flashback, a drug that allows its users to re-experience the best moments of their lives. After ex-detective Nick Bottom's wife died in a car accident, he went under the flash to be with her; he's lost his job, his teenage son, and his livelihood as a result.

Nick may be a lost soul but he's still a good cop, so he is hired to investigate the murder of a top governmental adviser's son. This flashback-addict becomes the one man who may be able to change the course of an entire nation turning away from the future to live in the past.
George says: "It got a lot of low reviews because it is a conservative book [but] I thought it was great." And he's right. Glancing through the 1-star reviews, and even some of the better ones, the big complaint was the explicitly conservative politics. Which may not be a problem for us.
Dan Simmons
has authored many books, and is best known, I think, for his
Hyperion
science-fiction novels. But he's also written books in the horror, suspense, historical fiction, noir crime fiction genres. All that, and I never knew he was conservative.
___________
Guy down at work recommended
Blood Trails: The Combat Diary of a Foot Soldier in Vietnam
by Christopher Ronnau. This is a Vietnam War memoir and it came up in conversation as we were discussing the intricate network of tunnels dug by the Viet Cong and our infantrymen who volunteered to go down in them to hunt down the enemy.
Patrols, ambushes, plunging down VC tunnels, search and destroy missions - there were many ways to drive the enemy from his own backyard, as Ronnau quickly discovered. Based on the journal Ronnau kept in Vietnam, Blood Trails captures the hellish jungle war in all its stark life-and-death immediacy. This wrenching chronicle is also stirring testimony to the quiet courage of those unsung American heroes, many not yet twenty-one, who had a job to do and did it without complaint - fighting, sacrificing, and dying for their country.

Includes sixteen pages of rare and never-before-seen combat photos.
Me, personally, I'm prone to claustrophobia, so the very thought of going into a small, dark tunnel gives me the heebie-jeebies.
Books By Morons
Lurking moron Gunnar Grey writes:
Just wanted to let you know that Dingbat Publishing will be putting several books on sale this weekend, including my psychological mystery, Trophies, which was a finalist for the 2013 Clue Award. Trophies is part murder mystery, part psychological assessment for the main character, and part family squabble. Normally it's priced at $2.99, but this weekend, from May 14 to May 18, it will be $0.99.
And that's not all:
Another book that will be on sale from $2.99 to $0.99 is a kid's book called Love the Cat. It's the story of a sort of psychotic feline and it's great for youngsters just learning to read.
Link to Trophies
.
Link to Love The Cat
.
___________
So that's all for this week. As always, book thread tips, suggestions, bribes, rumors, threats, and insults may be sent to OregonMuse, Proprietor, AoSHQ Book Thread, at the book thread e-mail address: aoshqbookthread, followed by the 'at' sign, and then 'G' mail, and then dot cee oh emm. What have you all been reading this week? Hopefully something good, because, as you all know, life is too short to be reading lousy books.