Saturday Politics Thread: What Do Voters Want? [Y-not]
A short Saturday Politics Thread this week as I have been sidelined with terrible sinus headaches. But, just to give us something to chew on, how about some poll-gazing?
Via the Twitter feed of the good folks
at Ricochet
:
The great unwashed have been polled by WSJ/NBC, and have spoken. The top three traits causing voters to be uncomfortable or have reservations about a president candidate are: 1. No previous elected experience (excludes Carson and Fiorina) 2. A leader of the Tea Party movement (excludes Cruz and possibly Rubio); and 3. No college degree (excludes Walker).
Here's a graphical representation of the WSJ/NBC poll results showing desired and unfavored characteristics in a presidential candidate: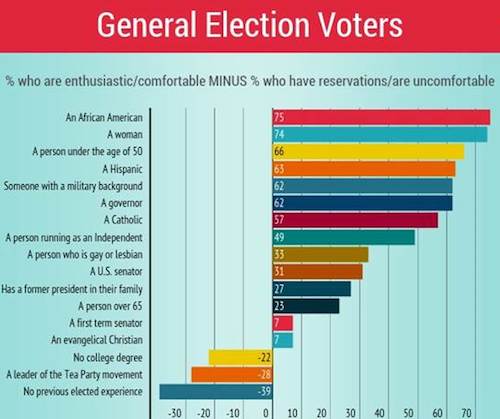 (I apologize for the graphic, which I think is a bit hard to read. If you click through to the original you might have better luck.) According to this poll, the most-favored characteristics are an African-American, a woman, and someone under the age of 50. Per
The Washington Times
, the WSJ/NBC poll results also indicate:
There's one quality that everyone appears to favor: 90 percent of GOP primary voters are "enthusiastic/comfortable" about voting for someone with a military background; 57 percent of Democratic primary voters agree - this according to a new NBC/Wall Street Journal poll. There's quite a partisan divide in one aspect, though: 90 percent of Democrats would feel comfortable and enthusiastic voting for a woman candidate - 54 percent of Republicans agree.
That Washington Times piece also cites a recent
YouGov poll
indicating that 92 percent of Americans would prefer a candidate under age 60.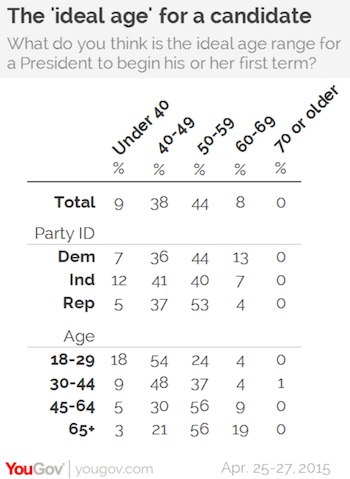 Meanwhile, in the world of real candidates, here's a link to the latest
RealClearPolitics poll averages
. Inexplicably, Jeb Bush continues to lead, with Rubio on his heels. So, what do voters want? I think they have no idea.
I'm curious if any of your friends and family are starting to tune into
the 2016 race
. My dad watched
Ben Carson's announcement
and absolutely loved it.