Saturday Morning Politics Thread: Can We Forgive Marco Rubio? [Y-not]
Good morning, horde!
Rand Paul and Marco Rubio have officially entered the race. We
covered them last year
, and neither one of them made the cut after polling the horde, but I thought it might be a good idea to update our coverage of them. I've been suffering pretty badly with sinus headaches, so in the interest of time/space/effort I'm going to abandon the usual format and just try to point out a couple of things about the candidate (and provide a few links), but leave much of this up to you for discussion. Let's start with Marco Rubio this week and revisit Rand Paul next week. Here's the
GovTrack.US
backgrounder on Senator Rubio, which focuses on what he has done since entering the U.S. Senate in 2011. Govtrack provides an interesting graphical tool for legislators that they call a "sponsorship analysis:"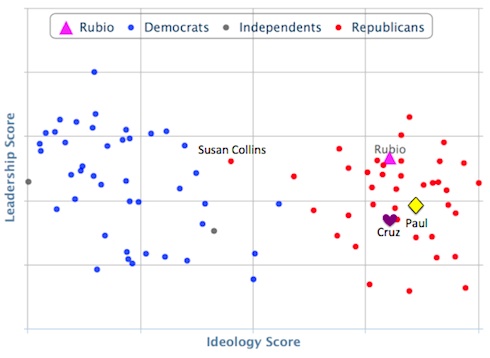 Our unique analysis of the bills Rubio has sponsored and cosponsored provides insight into his position in the Senate.
Each dot in the chart below is a member of the Senate. The dots are positioned horizontally according to our progressive -- conservative ideology score and vertically according to our leadership score (leaders toward the top). Rubio is shown as a purple triangle.
For comparison, I have shown
Ted Cruz's
score in this sponsorship analysis with the purple heart and
Rand Paul's
with the yellow diamond. By the way, that red dot over by the Democrats is Susan Collins. smdh You can read more about
their methodology here
. They've reproduced clickable maps for both houses of Congress at that page, so you can check to see how your favorite (or least favorite) Congress-critter fared. The data used appears to run from 2011 to present. Back to Rubio:
Prior to serving in the U.S. Senate, Rubio was in Florida's legislature. Supporters have been touting his service as Speaker as an example of his leadership and "executive" skills. Here's Jim Geraghty on his time as Speaker:
Rubio managed the Florida House of Representatives as speaker for two years, a period marked by some distinct successes but also lingering frustration with Republicans he deemed too passive and comfortable with the status quo. As speaker and in earlier leadership positions in the Florida House, Rubio demonstrated a willingness to delegate to focus on his strengths, communicating and negotiating. The record suggests that a President Rubio would drive a hard bargain, and hold out until the eleventh hour, but rarely walk away from the table without a deal.
During Rubio's announcement speech, which
you can read here
, he emphasized his immigrant roots. His announcement was made at the Freedom Tower in Miami, which is known as the Ellis Island of the South, especially amongst Cuban Americans. Here's what he had to say about that:
I chose to make this announcement at the Freedom Tower because it is a symbol of our nation's identity as the land of opportunity. And I am more confident than ever that despite our troubles, we have it within our power to make our time another American Century. In this very room five decades ago, tens of thousands of Cuban exiles began their new lives in America. Their story is part of the larger story of the American miracle. How, united by a common faith in their God given right to go as far as their talent and work would take them, a collection of immigrants and exiles, former slaves and refugees, became one people, and together built the freest and most prosperous nation ever.
The other major thrust of his speech was generational:
My parents achieved what came to be known as the American Dream. But now, too many Americans are starting to doubt whether achieving that dream is still possible: Hard working families living paycheck to paycheck, one unexpected expense away from disaster... Young Americans, unable to start a career, a business or a family, because they owe thousands in student loans for degrees that did not lead to jobs... And small business owners, left to struggle under the weight of more taxes, more regulations and more government. Why is this happening in a country that for over two centuries has been defined by equality of opportunity? Because while our people and economy are pushing the boundaries of the 21st century, too many of our leaders and their ideas are stuck in the twentieth century.
That's a clear shot at Hillary, although it's really more age-relevant (she's 67) than accomplishments-oriented, given that her time in office (in the Senate and as Secretary of State) was in this millennium. I admit, this approach doesn't play well with me, in large part because when I looked at specific issues that he cites, I don't see that Rubio has accomplished much of anything, novel or otherwise. For example:
They look for solutions in yesterday, so they don't see that good-paying modern jobs require different skills and more education than the past. They blindly support an outdated higher education system that is too expensive and inaccessible to those who need it most.
What has Rubio done to innovate higher education?
Rubio on the Issues
suggests very little. About a year ago,
he released some ideas about higher education
that had nothing to do with controlling costs and appeared to
add
to Federal involvement in colleges and universities (which, trust me, would
increase
costs). (Honestly, to my knowledge the only candidate who has actually
tackled higher education issues and gotten results in Rick Perry
.) So what do you think of Marco Rubio's candidacy? Do you think the optimism he projected in his speech -- and the generational argument he laid out -- will sell beyond GOP primary voters? More importantly, do you think GOP primary voters can -- or should -- forgive him for the
Gang of Eight
? We haven't covered immigration in these weekly threads yet, but it's clearly a major hurdle for many of us, including yours truly. Are you ready to forgive Rubio? **UPDATE: I should have included
this link to Hot Air
describing Rubio's recent commitment to ending Obama's executive amnesty. Hat tip to Norsu on Twitter.**