Saturday Gardening Thread: Tip Toe Through the Tulips (also, the Spinach, Nasturtiums, and Sunflowers) [Y-not, KT, and Weirddave]
Good afternoon, gardening morons! I hope you are all finally seeing real signs of Spring and making headway on your gardening plans. We had a little bit of snow earlier this week, but our flowers survived unscathed and our grass has greened up.
Here's a song to get us in the mood:
Herbert Khaury, aka "Tiny Tim". He had a troubled life, including OCD and bedroom "issues" (safe link).
This is what he looked like in 1952: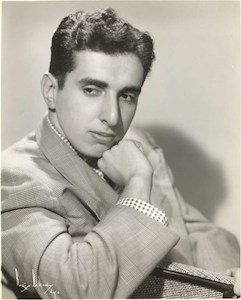 As I mentioned, Spring is well and truly underway here. Flowering trees are in bloom, as are the tulips. This weekend sees the beginning of the
annual tulip festival that's held just up the road from me
, so I thought we could talk about tulips today. A
bit of history
:
Originally cultivated in the Ottoman Empire (present-day Turkey), tulips were imported into Holland in the sixteenth century. When Carolus Clusius wrote the first major book on tulips in 1592, they became so popular that his garden was raided and bulbs stolen on a regular basis. As the Dutch Golden Age grew, so did this curvaceous and colorful flower. They became popular in paintings and festivals. In the mid-seventeenth century, tulips were so popular that they created the first economic bubble, known as "Tulip Mania" (tulipomania). As people bought up bulbs they became so expensive that they were used as money until the market in them crashed.
Here's some more tulip history from a site called
All About Turkey
. Speaking of history, did you know that the
Dutch show their gratitude to the Canadians for their assistance during World War II
by sending them
tulips
every year? And here's a bit of SCIENCE about tulips, courtesy of
Texas A&M
: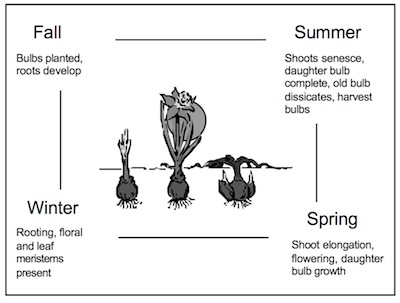 A year in the life of a tulip.
Iowa State's extension office has a handy
FAQ on tulips
. Bookmark it for the Fall. You might also like to bookmark this page, which provides
a list of tulips by flowering time
. I think tulips are pretty and certainly a sign of Spring, but I don't plant them myself. For one thing, most don't seem to last very long. For another, they don't have a nice aroma. Well, I'm
wrong about that
last thing, apparently!
Like "Apricot Beauty", most fragrant tulip cultivars are early-blooming varieties. I guess they are Mother Nature's way of tempting sleepy bees to wake from winter's sleep. These early, fragrant tulips include both single- and double-flowered types. Some of my favorite singles include "Generaal de Wet", a wonderful, softly blushed orange tulip; "Prinses Irene" (often sold as "Princess Irene"), another sweet-smelling orange flower; and "Couleur Cardinal", a beautiful, dark-red flower with a violet blush and a light, sweet scent.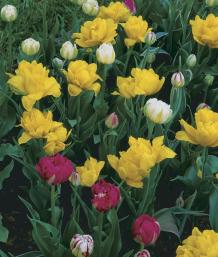 Double-flowered fragrant tulips such as the yellow "Mr. van der Hoef", pure-white "Schoonoord", and pinkish-red "Electra"
Cool! What about long-lasting tulips? Well,
according to this article
, Darwin tulips are the longest lasting tulip
plants
. But what about tulip flowers?
Are there any varieties that have long bloom times?
Let us know in the comments. In the meantime, here's some advice on
how to make your cut flowers last longer
. If you're like me - too lazy to plant tulips, but someone who likes to LOOK at tulips - attending a tulip festival may be for you! Here's a list of some of the better-known
tulip festivals
:
This month in the Pacific NW
, there's the
Skagit Tulip Festival
. Next month,
Tulip Time
will be held, in HOLLAND, Michigan! Also in May, there's a tulip festival in
Albany, New York
. There are many tulip festivals around the globe. Japan's festival is purported to be the
the largest in the world
. Or, you could
go to Holland
.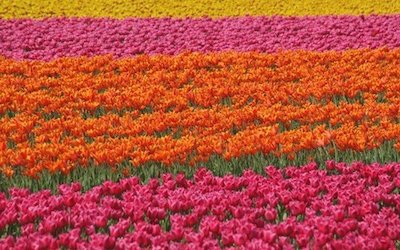 Do YOU tip toe through the tulips in your gardens?
And now,
heeeere's
KT
:
1-2-3, thatís how elementary it's gonna be . . .
Nice dimples
With all the craziness in the world lately, I thought we could take a break to discuss some really elementary plants which could even appeal to children. Some of these are easy enough for children to grow, with a little help. Others grow with no help at all.
Spinach and counterfeit spinach
Americans have invested a lot of energy in getting kids to enjoy eating spinach, with Popeye and all. I remember liking fresh-cooked spinach as a child, but also noticing that it made my teeth feel funny. Oxalic acid. I have only grown spinach once. My parents stopped growing greens with a high oxalic acid content when my Dad got kidney stones. I once grew a variety touted for low oxalic acid content. It tasted like soap, so I guess the acid content was pretty low. I am not so sure it was low in other oxalate compounds. Most people don't need to worry about this. Think of all the spinach consumed by practitioners of the "Green Smoothie Lifestyle". There may be some challenges to growing spinach that I don't know about (speak up in the comments), but as far as I can tell, the main ones are timing your planting so that it will grow in cool weather and avoiding leaf miners. Plant your spinach, harvest it a few weeks later and you're done. Succession planting works better than re-growth, I guess.
Johnny's recommends different cultivars
for specific planting seasons. Floating row covers can keep out most leaf miners unless juvenile forms are lurking in the soil under the row cover.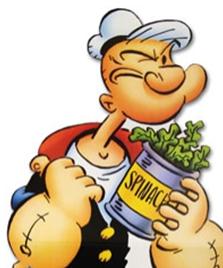 Despite Popeye, I never liked canned spinach
According to legend, New Zealand Spinach was first eaten by Captain Cook's crew. It is a counterfeit spinach. It can be harvested in much warmer weather than spinach. In the nearly frost-free locations where it is perennial, few veggies could be simpler to grow. It can also be grown as an annual in short-season areas. The large seeds are slow to germinate in my experience. It is quite drought tolerant. It sometimes naturalizes at the beach. Pick the tender stems at the ends of the branches, with the attached leaves. It may be a month before you can harvest that plant again. This is not a plant that overwhelms a garden. But it can make a nice groundcover. New Zealand Spinach is delicious cooked, with butter, but nasty raw. Most pests even seem to avoid it. Growing advice and a recipe
here
.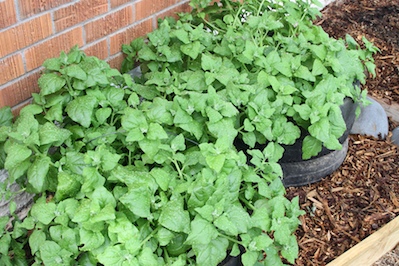 New Zealand Spinach
Chard was developed from the same plant species as beets. It is in the same plant family as spinach. I don't know why they call it "Swiss" Chard. It is one of the more productive plants in vegetable gardens because it can be harvested repeatedly. Most varieties are pretty enough to include in the flower garden. Chard comes in a variety of sizes, leaf and stem forms and colors.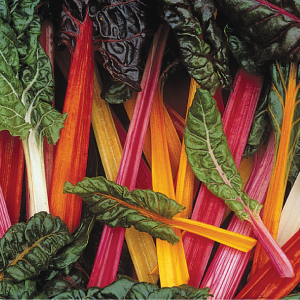 "Bright Lights" Swiss Chard
Chard stems and leaves are often
cooked separately
. I have a friend who can't eat foods with much Vitamin K, because of medication he is taking. He enjoys growing and eating the stems of Swiss Chard. This description of
"Argentata" stems appeals
to me: "none of the oxalic aftertaste so common in other chards." Other members of his family eat the leaves, also tasty, which contain lots of Vitamin K. Some varieties of Swiss Chard can grow
huge leaves
. If you are going organic, "promise you will simply ignore the bug holes in the leaves." Of course, you don't want the snail holes to be too big
if you plan to stuff the leaves
.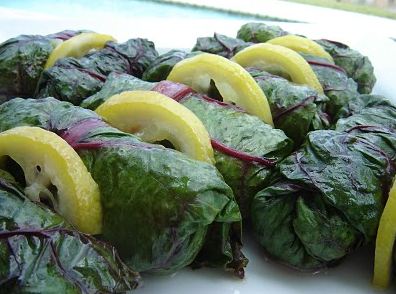 "cannelloni without the pasta"
Magenta Spreen
, or Tree Spinach, is one of those plants that are so easy to grow that they are actual weeds. "Kids call this plant "lipstick plant" because the magenta coloring on the top leaves is a mealy stuff that rubs off, to be applied to lips and eyelids." The tree spinach, as its name suggests, is an
attractive spinach substitute.
"It is fantastic melted in butter and keeps its magenta when cooked. It can also be eaten very young raw in salads. . . . One word of warning: it will reappear everywhere. It is not exactly a thug, but if you're not prepared to eat it, that's an awful lot of weeding."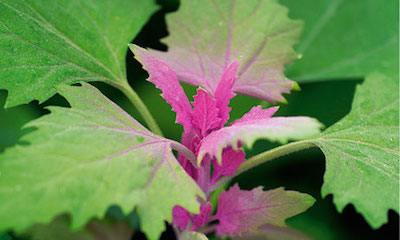 Tree Spinach
Malabar Spinach
is a vining plant hailing from tropical Asia and Africa. It is easy to grow where it gets heat and moisture, but a challenge in other locales. "It creeps when temperatures are cool, but leaps when the mercury hits 90 F." Many people grow Malabar Spinach on a fence. If it doesn't get regular water, it goes to seed and the leaves become bitter. The red-stemmed form (Basella alba rubra) is attractive and was used to demonstrate advances in agricultural technology when the Epcot Center opened at Disney World.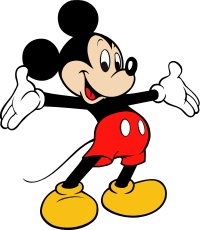 The green-stemmed kind is reputed to taste better. Cook it like spinach or chard, or in curries or other Asian recipes. In Japan, it is used in tempura. It can develop a mucilaginous quality like okra if cooked a long time -- fiber! This can be an advantage in soups, a disadvantage in some other long-cooked dishes. Don't let that stir-fry sit too long.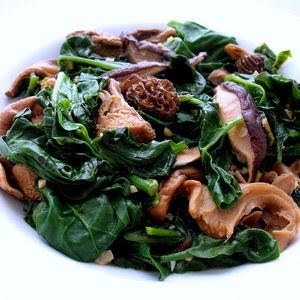 Malabar Spinach and Wild Mushroom Stir Fry
Strawberry Spinach is related to spinach, unlike some of the spinach stand-ins above. It is more heat-tolerant than spinach but may germinate on its own schedule. It has small, triangular leaves that can be eaten raw or cooked like spinach, plus berry-like fruits that look pretty in a salad, though they donít really taste like strawberries. The "berries" are kind of fun for kids to see on a "spinach" plant.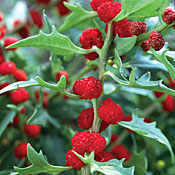 Strawberry Spinach
Nasturtiums - for kids and kids at heart
Nasturtiums are fun to grow with kids because their fingers can grasp the big seeds. Brave kids can eat the flowers or leaves later. The spurred kinds hold some spicy-sweet nectar. You can plant nasturtiums when you plant peas. They do best where summers are not too hot, but they don't need rich soil or a lot of water. Pinetree has a fine selection. Of their Tall Climbing Single mix, they say, "One of our favorite places to visit in Boston is the Gardner Museum, because of the eclectic collection, the music, and the old-fashioned nasturtium baskets trailing their vines some fifty feet to the ground". The "Nasturtium Party" at the museum generally runs from late March through Mid-April if you are traveling to Boston.
THOSE are some "hanging baskets"
Sunflowers
Many sunflower varieties grow from big seeds that are easy for kids to plant. They are more heat-tolerant than nasturtiums and will grow in moderately alkaline soil.
They should be planted later than nasturtiums
. Remember that sunflower seeds (and probably the plants) can inhibit the growth of other plants. The newer pollen-free hybrids may not make viable seeds. They are great for flower arranging. There are some gorgeous ones now.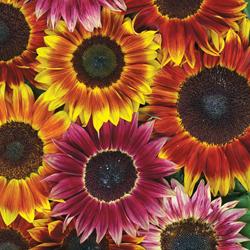 Pollen-free sunflowers "Harlequin" F1
If you want to see some happy kids, grow a sunflower fort using one or more of the
taller cultivars
.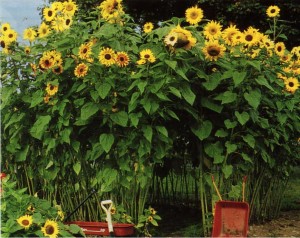 Y-not
: Thanks, KT! Now, here's
Weirddave
:
Itís spring. Have some fun in the garden.
Time for the Weirddave sing-a-long Cleaning out the beds, cleaning out the beds.
I shall spend my morning, cleaning out the beds;
Raking up the leaves, raking up the leaves,
Skipped it in the fall now I'm raking up the leaves. Sung to the tune of "Bringing in the Sheaves", a traditional American hymn from the 19th century based upon Psalms 126:6, "He that goeth forth and weepeth, bearing precious seed, shall doubtless come again with rejoicing, bringing his sheaves with him." That's a good verse for gardeners. If you've never heard the hymn and would like to, here it is as sung by Tennessee Ernie Ford: Anyhow, here it is April 11th. We've got a nice day outside, finally, and it's time for me to get the beds ready for planting. They're in pretty sad shape: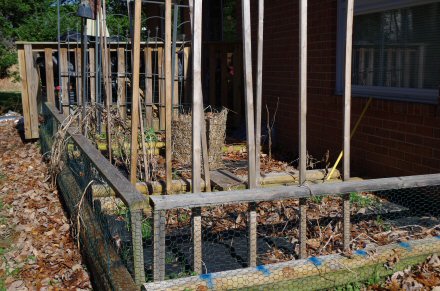 Notice the potato tower I built last year-I forgot to harvest it! It never grew the way I was expecting anyway, I'm going to have to try again. Anyhow, the plant beds are full of the detritus of winter, along with some determined weeds, my job for the day is to get them ready for planting. This shouldn't be too hard, the weed cloth that I put down last year seems to have done it's job, only one bed has any appreciable amount of weeds: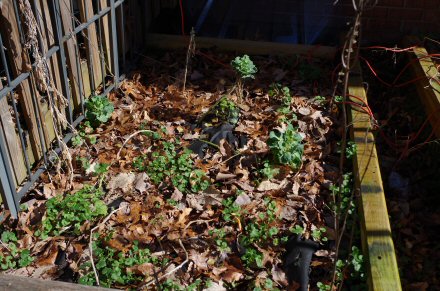 The good news is that most of the weeds seem to be of the same type. I dunno what it is, some type of vine. It'll spread like wildfire if you let it, but the roots it throws down are very shallow, it's child's play to tear it up. During the season judicious use of the weed whacker keeps it in check. Why must I get the beds clear you ask? Why, because I've got plants ready to go out! Actually, that's a lie. What I have is a bunch of stuff that's sprouted under the grow light in the basement: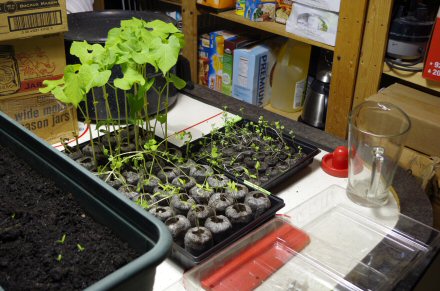 They're not nearly ready to go out, but they are ready to be transplanted into larger pots and then to begin the process of hardening them. So that's my plan for the day: Working in the dirt. It's a glamorous life donchakno.
Y-not
: To wrap things up, here's Nick Lucas, who was known for the
original version of Tip Toe Through the Tulips
:
What's happening in YOUR gardens this week?