Saturday Politics Thread: Gun Rights [Y-not]
Last weekend Niedermeyer's Dead Horse posted the results of the Horde's top four issues, ones about which they would never be willing to compromise (aka our collective Hills To Die On:
Conservative Issues/Positions: 1. Second Amendment - Pro Gun Rights: 1,249 votes
2. Size of Federal Government - For Shedding or Shrinking Departments: 1,238 votes
3. Immigration - Against Shortcut to Citizenship: 1,184 votes
4. Affordable Care Act - Pro Repeal/Replace: 1,142 votes After these, the number of votes per issue dropped precipitously with fifth place, 'States Rights - Moving Decision-Making Back to the States', garnering only 706 votes.
She also polled the Horde on which issues they
would
be willing to compromise. There was lively debate about the entire premise, with many expressing exasperation and anger over conservatives always being asked to surrender their principled stands (when seemingly liberals and moderates are never asked to do the same). Fewer morons voted in this poll, but here are the top four vote-getters as of Monday morning, March 16th: Foreign Policy - Financial Assistance to Foreign Nations 14.43% (644 votes)
Gay Rights - Against Gay Marriage 12.48% (557 votes)
Social Security Reform - Pro Reform 7.41% (331 votes)
Abortion - Pro-Life Stance 7.39% (330 votes) I thought this week we could address our seven prospective GOP candidates' positions on the issue of most importance to the horde: gun rights. I'm assuming there won't be any big surprises in what we find, but you never know. It might also be helpful for us to discuss
what compromise looks like
when it comes to important issues like this one. Does "compromise" consist of being asked to support a candidate who holds the
wrong
(opposite from desired) position or does it also include supporting someone who
punts
on an issue altogether? If gun rights represents a No Compromise issue for you, does that mean that you expect your nominee to not just voice support for it, but to actually propose
advancing
that agenda when he is sitting in the White House? If the candidate you support has not pushed to have Open Carry at the state offices where he is governor, does that mean he's a RINO on the 2nd amendment? Do you expect him to own (and use) firearms? I'm genuinely curious to hear what expectations you have. Before looking at the candidates, here's an excerpt from the
2012 Republican Platform
:
The Second Amendment: Our Right to Keep and Bear Arms We uphold the right of individuals to keep and bear arms, a right which antedated the Constitution and was solemnly confirmed by the Second Amendment. We acknowledge, support, and defend the law-abiding citizen's God-given right of self-defense. We call for the protection of such fundamental individual rights recognized in the Supreme Court's decisions in District of Columbia v. Heller and McDonald v. Chicago affirming that right, and we recognize the individual responsibility to safely use and store firearms. This also includes the right to obtain and store ammunition without registration. We support the fundamental right to self-defense wherever a law-abiding citizen has a legal right to be, and we support federal legislation that would expand the exercise of that right by allowing those with state-issued carry permits to carry firearms in any state that issues such permits to its own residents. Gun ownership is responsible citizenship, enabling Americans to defend their homes and communities. We condemn frivolous lawsuits against gun manufacturers and oppose federal licensing or registration of law-abiding gun owners. We oppose legislation that is intended to restrict our Second Amendment rights by limiting the capacity of clips or magazines or otherwise restoring the ill-considered Clinton gun ban. We condemn the reckless actions associated with the operation known as "Fast and Furious," conducted by the Department of Justice, which resulted in the murder of a U.S. Border Patrol Agent and others on both sides of the border. We applaud the Members of the U.S. House of Representatives in holding the current Administration's Attorney General in contempt of Congress for his refusal to cooperate with their investigation into that debacle. We oppose the improper collection of firearms sales information in the four southern border states, which was imposed without congressional authority.
With that in mind, here's what I learned researching the candidates this week:
Sen. Ted Cruz
Cruz has an
unblemished record on gun rights
, including arguing in favor of them before the Supreme Court.
From Wiki
:
In the landmark case of District of Columbia v. Heller, Cruz drafted the amicus brief signed by attorneys general of 31 states, which said that the D.C. handgun ban should be struck down as infringing upon the Second Amendment right to keep and bear arms. Cruz also presented oral argument for the amici states in the companion case to Heller before the United States Court of Appeals for the District of Columbia Circuit.
In 2013, the odious Judy Woodruff tried to use bodies of children to shame Cruz into backing off on his support for the 2nd Amendment.
Here's an excerpt
from that exchange:
JUDY WOODRUFF: You're a longtime proponent of gun rights. But you're also the father of two young girls ages 4 and 2. And after those terrible shootings at that elementary school in Connecticut, have you changed your views at all on how available guns should be, especially the high-capacity weapons? TED CRUZ: Well, I think every parent was horrified at what happened in Newtown, Conn. To see 20 young children and six adults senselessly murdered in an elementary school, it's just shocking beyond words. But I think it was also sad that, within almost minutes of that tragedy, politicians began exploiting that horrible crime to push their gun control agenda. I do not support that agenda. In fact, I intend to help lead the fight to stop Sen. Dianne Feinstein's bill to pass aggressive gun control, and in particular to pass a national firearms registry. I don't think the federal government has any business keeping a list of law-abiding Americans who exercise their constitutional right to keep and bear arms. JUDY WOODRUFF: So, you think that assault weapons, high-capacity guns should continue to be easily available? TED CRUZ: What I think is two things, number one, that restricting the right to keep and bear arms is unconstitutional. The Second Amendment is an integral part of the Bill of Rights. And what it means is, politicians cannot come and strip the guns from law-abiding Americans. But, number two, it's misguided policy. If you look at the jurisdictions with the strictest gun control laws, almost without exception, they have the highest crime rates and the highest murder rates.
Recently,
Cruz joined the majority
of Senators and Representatives in objecting to "the Obama administration's move to ban a popular type of ammo used in the top-selling AR-15 rifle and pistol because it pierces police body armor." Incidentally,
yesterday we learned that the ATF director is resigning
. I'm sure that's just a coincidence.
Gov. Nikki Haley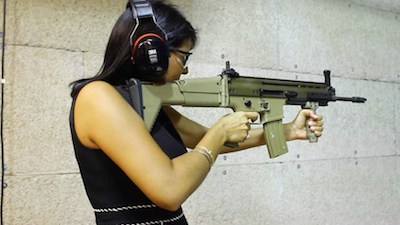 Nikki Haley appears to be
very strong on 2nd amendment issues
. She received an
A+ rating from the NRA
:
"Governor Haley is a strong Second Amendment leader for South Carolina," said Chris W. Cox, chairman of the NRA-PVF. "She signed into law a comprehensive pro-gun reform bill that made numerous improvements to South Carolina's Right-to-Carry law, including allowing people with carry permits to more fully exercise their right to self-defense. Governor Haley also signed legislation repealing anti-gun policies that had been on the books since the 1970s." While serving in the state legislature, Haley voted for Castle Doctrine legislation giving law-abiding citizens greater rights to self-protection if a criminal breaks into their home. She has also long supported hunting as a valuable tool for wildlife management and conservation. Haley rejects expanded licensing and registration schemes and so-called "universal" background checks, which require federal government approval for transferring firearms between life-long friends and family members.
As far as I can tell,
South Carolina is still not an open carry state
, the measure having
stalled in the legislature twice
in recent years.
Gov. Bobby Jindal
Governor Jindal also seems to have
an excellent record
on gun rights. The NRA gave Jindal an A+ when he ran for governor in 2007 and endorsed him for re-election in 2011. Here's a quote
from last year
:
Jindal charged that Vice President Joe Biden and former Secretary of State Hillary Clinton, both possible Democratic presidential candidates, think the Second Amendment is little more than "a phrase from a speech writer." "If they had their way they'd simply cut and paste the Constitution and just get rid of the Second Amendment entirely," said Jindal, who approved several gun rights bills last year, including one that creates stiff penalties for those who knowingly publish the names of gun permit holders.
Louisiana appears to be an
open carry state
.
Gov. Susana Martinez
As you saw in that video, Governor Martinez knows her way around firearms. (By the way, did you know that
her husband had a career in law enforcement
?) Overall,
New Mexico's gun laws
look "good" (from a 2nd amendment perspective), but there clearly are NM legislators
who push gun control each year
, so that's the backdrop in which Martinez is operating. Although she earned an "A" rating from the NRA, in 2013 Martinez
came out in support
of a proposed measure to impose background checks for purchasing firearms at gun shows:
The bill, sponsored by a Democrat, also would pave the way for state records on mental health patients and convicted criminals to be brought into the federal instant background check system, according to a report on Newsmax. "We want to make sure that guns aren't sold to a felon or someone who's mentally ill at a gun show," the governor said in a Santa Fe New Mexican newspaper report.
To be honest, although I found articles saying that this bill passed the House in 2013, I could not confirm that it passed the Senate.
Gov. Mike Pence
Governor Pence speaking before the NRA in Indianapolis last year. FWIW, I couldn't find a picture of him with a firearm of any type.
**UPDATE: Emile Antoon Khadaji provided this picture from Facebook. Thanks for finding that! I figured I must've been missing some pictures.**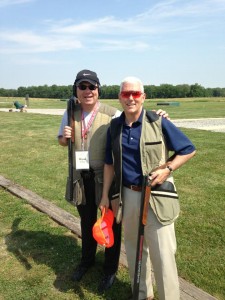 Governor Pence
seems to be good
on 2nd amendment rights. He was
endorsed by NRA
, who indicated that he would have gotten a A under their rating system. Here's an excerpt from
an interview with Mike Wallace
last year:
WALLACE: You spoke at the NRA's annual leadership conference, forum which is being held in Indianapolis this weekend. You also recently signed a law that would allow guns in locked vehicles in school parking lots. The Indianapolis school superintendent had this to say about that law, "Young people, schools, guns, and all of that is a mix for something inappropriate." Question, governor, do we really need guns closer to schools? PENCE: Well, let me say, Chris, I have strongly supported the right to keep and bear arms. I truly believe that firearms in the hands of law abiding citizen's makes our families and our communities more safe, not less safe. And the bill that we just signed here in Indiana really was a common sense reform. We actually have parents that had a permit to conceal and carry a weapon that we're finding themselves guilty of a felony just by dropping their kids off to school. So we just -- we made a modest change, a common sense change in Indiana law. And I strongly supported it.
A constitutional carry bill
appears to have stalled in the Indiana legislature this year.
fmr. Gov. Rick Perry
Here's a video from
2013:
Rick Perry
received an A+ NRA rating in 2010 and
overall his record
appears very good. The state of Texas is about to pass open carry and campus carry, both bills will be signed by Governor Abbott. Earlier this year when
Perry was asked by the Texas Tribune
about the upcoming legislation (and gun rights more generally) he answered in a way that drew from criticism:
He also commented on the other controversy consuming debate in Austin: the open carrying of handguns. Perry said he was "not necessarily all that fond of this open carry concept," adding that those who carry guns ought to be "appropriately backgrounded, appropriately vetted, appropriately trained." "We license people to drive on our highways," he said. "We give them that privilege. The same is true with our concealed handguns." But also, he said he prefers concealed handguns for "a more practical reason." "I don't want the bad guys to know if I'm carrying," he said. "I don't want to be the first person shot if something's going down."
I saw a lot of hay being made in the progressive media, as well as in less mainstream "gun rights" blogs, about these comments. Although I think I understand the objections to them, when I look at how Perry governed in Texas for 14 years, I can't honestly say I think he would be a gun-grabber if he were elected POTUS.
Gov. Scott Walker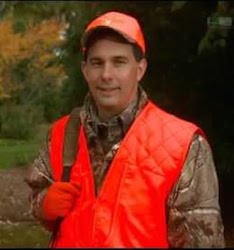 Scott Walker enjoys hunting.
Wisconsin is an open carry state
, but it does impose waiting times on handgun purchases. The NRA gave Walker its highest rating (A+) in 2014. Nevertheless, like Perry, Walker has
received some criticism
:
Gov. Scott Walker's administration is barring openly carrying guns into state buildings, even for people with valid concealed carry permits. The Republican governor's administration is also declining to say how many state employees have told their bosses that they'll be bringing concealed guns to work after the administration decided last month to allow that for valid permit holders. The new policies all came in response to the state's new concealed carry law, which on Nov. 1 made Wisconsin the 49th state in the nation to let citizens carry hidden weapons.
I'm not sure if Walker's position received any blowback from 2nd amendment advocates. **UPDATE: Here's a better picture of Walker**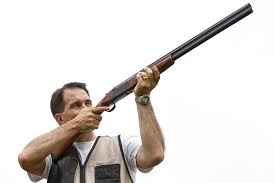 That concludes a brief roundup of our seven 2016 hopefuls on gun rights. Did you find any who you felt were disqualified based on this issue? Finally, in the interest of perspective, here is the
Democrats' position on guns
:
Firearms. We recognize that the individual right to bear arms is an important part of the American tradition, and we will preserve Americans' Second Amendment right to own and use firearms. We believe that the right to own firearms is subject to reasonable regulation. We understand the terrible consequences of gun violence; it serves as a reminder that life is fragile, and our time here is limited and precious. We believe in an honest, open national conversation about firearms. We can focus on effective enforcement of existing laws, especially strengthening our background check system, and we can work together to enact commonsense improvements -- like reinstating the assault weapons ban and closing the gun show loophole -- so that guns do not fall into the hands of those irresponsible, law-breaking few.
So that's it, boys and girls. That's where the Democrats stand on gun control, as evidenced by their platform. (I encourage you to follow the link to their platform, which is littered with all sorts of other nonsense.) Individual Democrats might be deemed acceptable by the NRA. Would that be enough for you to support one of them?
To close things up, this song seems appropriate: