Saturday Morning Politics Thread: Energy Issues [Y-not]
It's baaack!
Well, after a several week long hiatus, let's resume our assessment of the 2016 GOP prospects. For those joining us late, after several several weeks reviewing some of the names commonly floated for the 2016 GOP primary, our highly-unscientific polling of the AoSHQ horde
resulted in a list of seven folks of interest to many of us
. (Recall that a couple of months ago I decided to replace Trey Gowdy, who polls well with the horde but shows no signs of running,
with Mike Pence, the governor of Indiana
whose name has begun to surface.) For those just joining us, we did review candidates like Mitt Romney, Jeb Bush, Chris Christie, Marco Rubio, and others, but they didn't make the cut with the horde. (Neither did Rand Paul, Ben Carson, or Sarah Palin, so please don't complain about their absence from this series.) Obviously, there's a good chance that several of those politicians will run -- but our goal here is to identify which prospective candidates
conservatives
could support. In short: I want us to feel comfortable with as many of these conservatives as possible so that when the time comes we can throw our
united support
behind one of them and defeat Jeb
or whichever "moderate" pick the Establishment folks want
. Recall that a few weeks ago we started looking at these politicians' positions on various issues,
starting with Common Core
. That assessment revealed that most of the candidates we're interested in are against it. I think it's fair to say that Rick Perry has been the leader in this particular issue, having withdrawn Texas from consideration very early on. Most of the others have followed suit, except for Gov. Susana Martinez, who supports it, and Gov. Mike Pence, who has tried to walk a tightrope between rejecting it while retaining Federal education dollars. As a reminder, Jeb Core, the GOPe's current darling,
supports Common Core. (Marco Rubio, another favorite with the Smart Set, opposes it.)
Chris Christie initially supported it,
but has since then issued an Executive Order to review it
. Mitt Romney
has come out against Common Core, while supporting federal dollars for low-income and special needs students
(that comprise roughly half of all students, according to Romney). So this week, I'd like to review Energy Policies.
One way to assess these politicians is to see what the politicians themselves are touting either via their own press releases or through their interviews and actions.
For example, last August Governor Scott Walker (WI) announced
"$900,000 in grants to support the new Energy Innovation Center in Milwaukee, a facility expected to solidify the region's role as leader in the energy, power, and control industry
." On a more practical, immediate level, Walker has issued
several executive orders
relaxing regulations in response to declared states of emergency pertaining to energy needs in his state. Walker supports fracking and has (not surprisingly)
taken some heat for that
. And, he supports
the Keystone pipeline.
He also has been
blamed (or credited, depending on your point of view!) for Wisconsin's de-emphasis of energy efficiency mandates and incentives.
Early last year
Senator Ted Cruz (TX) came out strongly in support not just of Keystone, but of a broader pro-energy policies.
More recently, he
decried the "land grab" in the National Defense Authorization Act
which Boehner's House passed last month. According to Heritage, the bill "would lead to more government ownership of America's land and more restrictive land-use policies that prohibit energy development and economic activity." Needless to say,
Think Progress
thinks he's the Devil, so I guess he's hated on both the Left and the Squishy Right. LOL. Unsurprisingly, Governor Rick Perry (TX) has made
energy policy a top concern in his administration.
He has also been one of the most vocal - and active - opponents of Obama's
wildly out of control EPA
. As a prospective POTUS candidate, there is little doubt that the attacks from the Left will try to paint him as anti-environment, so his challenge will be to try to deliver a
positive message about the compatibility of energy exploration, jobs, and environmental health
. Obviously, he has received criticism from the left for being a "climate change denier." Here's what
NPR has to say about Perry's record.
Governor Bobby Jindal (LA) is another governor from an "energy state." Red State recently outlined his
energy plan.
Dan McLaughlin writes: "When I pressed him on a blogger conference call on Tuesday on how his plan differs from the McCain and Romney energy plans, he noted that there were some specific new ideas, like allowing wind and solar power companies to use the master limited partnership format now used by many oil and gas companies, but argued that what has really changed is the facts on the ground and the growing need for a new direction in energy policy away from that embraced by Obama." You'll recall that Jindal went toe-to-toe with Obama in 2010 after the Deepwater Horizon spill, much to the annoyance of
Mother Jones
. So he, like Perry, has made the right enemies. Earlier this year, Governor Nikki Haley (SC)
signed what was described as a "landmark bill"
to ease restrictions on solar power. According to the report: "Haley's support for sun power also is significant because the governor has been criticized by conservation groups for failing to pay attention to environmental issues, and at times, blasting federal environmental regulations. Two months ago, Haley criticized federal carbon rules proposed by the U.S. Environmental Protection Agency to address climate change." Haley
has been a vocal critic of the EPA
.
Sacred honor compels me to say that I hope Haley considers throwing her hat in the ring for the 2016 Presidential election.
Governor Susana Martinez (NM) seems to have gained quite a few enemies in environmental circles for her part in
repealing (and replacing) the so-called "pit rule"
in New Mexico. "The rule, which regulates oil and gas drilling waste pits, sumps and below-grade tanks, has been a source of contention between the industry and environmentalists, who have criticized Gov. Susana Martinez for siding with the view that regulations are too stringent, a position she took while campaigning for office." She also recently presided over the ribbon cutting for the gas company
Praxair, which expanded in her state.
That said,
New Mexico joined a number of other states, including California, New York, and Oregon, in supporting the EPA's right
to regulate carbon dioxide emissions. (The move was in response to a lawsuit filed by coal giant Murray Energy.) Overall, it appears her record is a bit mixed. I found a lot of attacks on Gov. Martinez from environmentalists, which I suppose it not surprising given that New Mexico is a purple state. Governor Mike Pence (IN) ties his
energy policies tightly to Indiana's jobs, particularly in manufacturing.
The
Indiana legislature recently ended state mandates for increased energy efficiency
. Governor Pence also penned
a tough column criticizing the EPA
over its anti-coal policies.
This might also be somewhat informative (at least in terms of assessing the governors under consideration), it's
a comparison of the state-imposed energy taxes/fees
courtesy of the American Petroleum Institute: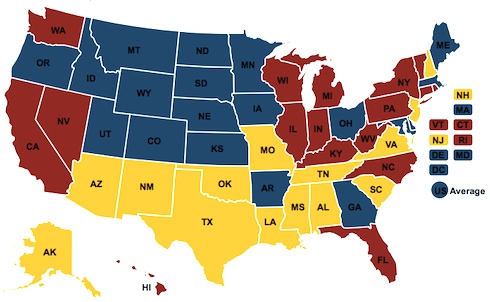 Gasoline taxes: RED=Greater than 49.5 cents; BLUE=40.0-49.5 cents; YELLOW=Less than 40.0 cents (National average=49.28 cents)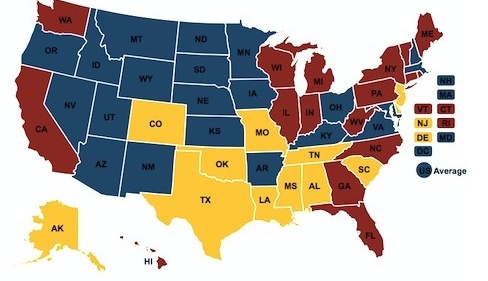 Diesel taxes: RED=greater than 54.8 cents; BLUE=47-54.8 cents; YELLOW=less than 47 cents (National average=55.15 cents
**UPDATE: An alert reader asked for information about ethanol subsidies.
Here's Ballotpedia on "Agriculture" issues
, that includes a bit about ethanol. Chris Christie is for them, Rick Perry is against them, and Ted Cruz, Marco Rubio and Rand Paul voted to limit farm subsidies. If you have info on the others, please put it in the comments.** So that's a quick survey of the candidates we're considering. It's by no means exhaustive, but I tried to hit the highlights of their recent records. What do you think of them? Also, do you think that the recent drop in gasoline prices makes energy a less important issue for 2016 or do you think the broader issues of the economy, Federal land control, and "environmentalism" still make it relevant?