Sunday Morning Book Thread 01-12-2014: Polar Vortex Edition [OregonMuse]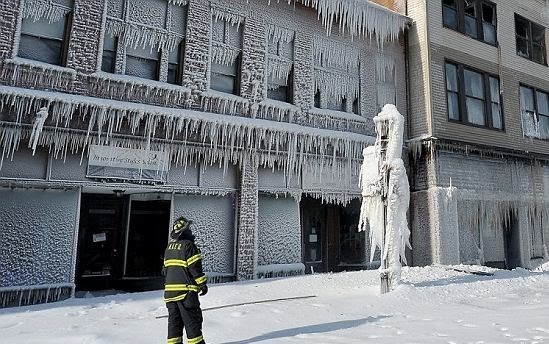 Global Warming Is Getting Really Bad These Days
Good morning morons and moronettes and welcome to the award-winning AoSHQ's prestigious Sunday Morning Book Thread.
Baby, It's Cold Outside
OK, so with the polar vortex smacking down hard on the East Coast, it's probably the appropriate time for you to read a
real
cold weather story. I'm talking about
To Build A Fire
, commonly recognized as Jack London's best short story. So throw another log on the fire, grab a cup of coffee, tea, or other hot beverage, and settle down in a comfy chair to read about what can happen when you go out by yourself in real cold weather.
To Build A Fire
is in the public domain, you can read it
here
or, if you prefer, you can download a pdf
here
. I expect most of you morons have read this story, but perhaps there are a few that haven't, yet.
Reading Exercises Your Brain? The Devil You Say.
In order to justify their phoney-baloney jobs and keep that sweet, sweet grant money flowing in, a bunch of Emory researchers did a study that proved that
reading actively engages the brain
. Next, these guys will put together a study that will show conclusively that lobbyists who provide free booze and hookers to politicians significantly improve their chances of passing favorable legislation. By the way, the book they had the volunteers read to do this study was
Pompeii
, by Robert Harris, which, from the Amazon blurb, actually looks like it might be a fun read:
All along the Mediterranean coast, the Roman empire's richest citizens are relaxing...in the seaside resorts of Baiae, Herculaneum, and Pompeii.The young engineer Marcus Attilius Primus has just taken charge of the Aqua Augusta, the enormous aqueduct...[is worried]...His predecessor has disappeared. Springs are failing for the first time in generations. And now there is a crisis on the Augusta's sixty-mile main line—somewhere to the north of Pompeii, on the slopes of Mount Vesuvius...His plan is to travel to Pompeii, then head out to the place where he believes the fault lies. But Pompeii proves to be a corrupt and violent town, and Attilius soon discovers that there are powerful forces at work—both natural and man-made—threatening to destroy him.
So there you go.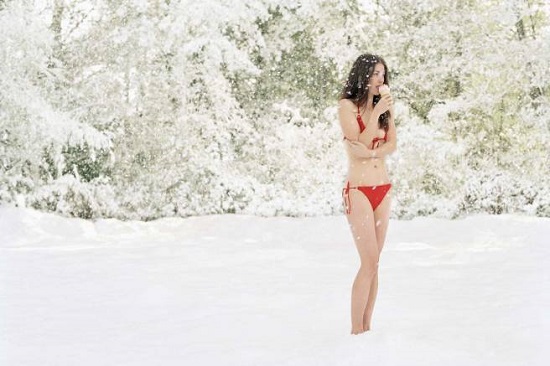 Makes You Shiver Just Looking At Her, Doesn't It?
Die Hard Was A Book?
Yes, it was. I seem to recall seeing that in the movie credits, then promptly forgot it amidst all the slam-bang action that hits you like a wall. Anyway, according to
this article
in The Daily Beast, Die Hard was based on the novel
Nothing Lasts Forever
by Roderick Thorp, who wrote other novels that were turned into movies, including
The Detective
, starring Frank Sinatra and Lee Remick. So, is the book different than the movie version? Of course it is:
Director John McTiernan and his screenwriters, Jeb Stuart and Steven E. de Souza, did make several deliberate changes in Thorp's story. They made the bad guys thieves masquerading as terrorists, while in Thorp's version, the terrorists are terrorists. They made sure no one we care much about gets killed. Thorp is more ruthless. They made John McClane a wise-ass. In short, they lightened the story up. You never feel bad about anyone who's killed in the movie. You never have to think about what the terrorists' agenda might be, or if there's any validity to it. Die Hard is an extraordinarily adroit story, but at heart it's a thrill ride masquerading as a movie.
He goes on to say that the book is able to do something that the movie really can't, that is, go deeper into the mind of the main character and give the reader a better sense of how alone and isolated he really is, not only in this horrific situation he finds himself caught up in, but in the rest of his life as well. Thorp's book sounds like it might be worth checking out. But if you don't want to do that, at least click over to the Daily Beast article, which is worth reading.
From The Belly of the Beast
In the
prison thread
of a couple of days ago, longtime moron 'Seamus Muldoon' recommended the book
Inside the Criminal Mind
by Stanton Samenow, who, Seamus says, "is not a big fan of rehabilitation", and argues that is very difficult to get a criminal to change the basic way of thinking that makes them who they are:
The evolution of the criminal mind starts with learning patterns of manipulation early in life that enable him to negotiate the real world without consequences. The thought process becomes twisted into a sense of entitlement and distorted "self logic" and a belief that the rules others live by don't apply to him. At some point, the budding criminal makes a conscious decision to behave the way he does, as opposed to being shaped by outside forces
This lines up pretty much with the observations of ex-prison chaplain Peter Grant, in his book
Walls, Wire, Bars and Souls
I mentioned on a book thread of two or three months ago. Grant says that true, long-lasting rehabilitations are few and far between: possible, but not very likely. In his book, he talks about his one successful case, and it took months and months of therapy and prayer to get the guy to understand some real basic truths, namely, that 1. what he did was wrong and 2. it's nobody's fault but his. Normal people learn this sort of thing early on, in childhood, but with some, the crucial lessons never seem to sink in. So take a whole carload of these near-sociopaths (and actual sociopaths), all of whom are extraordinarily self-fixated, amoral experts at manipulation, put them in close quarters for an extended period of time, and the results are horrific. This is why prisons are dangerous, scary places, and why the recidivism rates are sky high.
Sales of Phil Robertson's Book Soars, GLAAD, Grievance Industry Hardest Hit
Happy, Happy, Happy: My Life and Legacy as the Duck Commander
is Phil Roberton's autobiography.
The Christian Science Monitor reports
that in the wake of the brouhaha where he said stuff that the left didn't want to hear,
Between the week ending on Dec. 15 and the week ending on Dec. 22, sales for "Happy" increased by 86 percent, according to Publishers Weekly.
86% increase. Wow. And currently, "Happy" is ranked #357 on Amazon.
The Bookless Library
In San Antonio, Texas
:
Texas has seen the future of the public library, and it looks a lot like an Apple Store: Rows of glossy iMacs beckon. iPads mounted on a tangerine-colored bar invite readers. And hundreds of other tablets stand ready for checkout to anyone with a borrowing card.

Even the librarians imitate Apple's dress code, wearing matching shirts and that standard-bearer of geek-chic, the hoodie. But this $2.3 million library might be most notable for what it does not have — any actual books.
I'm thinking that the #1 attraction of the bookless library is the cost. $2.3 mil for an entire library sounds pretty inexpensive, and I wouldn't be surprised if other cities might be looking seriously at this. Thanks to Gabe for first posting this on the morning news thread earlier this week.
Books By Morons
Elisabeth Wolfe, author of
Loyal Valley: Assassination
wants to let the Horde know that she will be serializing the first book of her second series
on her blog
starting on Monday and then releasing the full version in ebook and paperback on March 2nd The title will be
Look Behind You
and she e-mailed this summary:
Before his disappearance from Camelot, Merlin prophesied that the Round Table would have a successor, an order that would keep Arthur's ideals alive. His exact words were lost, and through the centuries, many groups tried to claim that mantle for themselves. Some are decent. Some are kooks. Some, like Himmler's SS, are evil.

They are all of them deceived.

Now, with the SS wielding dark magic and the courts of Fäerie loath to intervene in mortal wars, the Round Table's true heirs must act to defend Europe's freedom in ways the Allied forces can't.

For the Order of the Silver Star is coming to make Hitler's worst nightmare come true.
___________
I notice in the sidebar this week that longtime commenter Arhooey has a book out,
Elsinore Canyon
, a mystery novel that the Amazon blurb describes as "a modern take on Shakespeare's
Hamlet
, suitable for adult and sophisticated teen readers." The Kindle edition is only $2.99.
___________
This is not a book by a moron, but a recommendation. In last week's book thread, moronette 'Lizzy' brought my attention to
The 9/11 Report: A Graphic Adaptation
by Sid Jacobson and Ernie Colón, which she describes as "pretty cool". I must admit my interest is piqued and I may want to buy a copy for myself. Now, here's a thought: wouldn't it be interesting if they did a graphic adaptation of the Warren Commission Report?
___________
So that's all for this week. As always, book thread tips, suggestions, rumors, threats, and insults may be sent to OregonMuse, Proprietor, AoSHQ Book Thread, at aoshqbookthread, followed by the 'at' sign, and then 'G' mail, and then dot cee oh emm. What have you all been reading this week? Hopefully something good, because, as I keep saying, life is too short to be reading lousy books.