I'm Fine, How Are You?
I woke up this morning with a to-do list as long as my arm. A headache. And a bad attitude.
Moving to Canada? Is killing me with details. And this could go on for as long as two years. Trying to climb on top of it all, I let Bear watch some Power Rangers while I made calls and answered emails, and it was the wrong wrong wrong damn thing to do. Television during the day is like pouring some kind of anti-happy poison down his throat. Fine when he's sick but otherwise? A recipe for an U-G-L-Y mood. Sure enough, Bear got snottier and snottier over about 90 minutes. At one point, screaming at me to bring him popcorn and refusing to do chores or come study when I turned it off. We ended up arguing and as I type this, he is in a
serious
time-out. It's 2:30PM and I want to go to bed and pull the covers over my head. So, while we wait for the dear child I love to return to me and the Advil to kick in... here are some pictures. 1. This was "Corporate Mommy's" inbox just a couple of hours ago. I love checking it. The joy of these emails - even when I am so so so very behind in responding - keeps me going sometimes: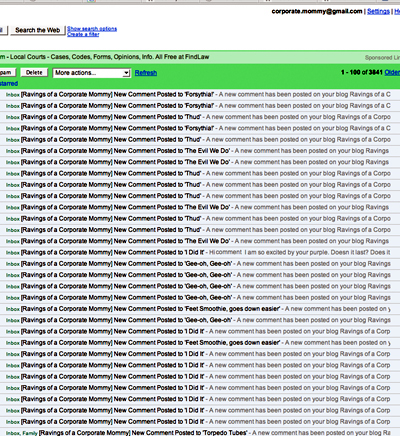 2. This is the picture I had in my mind when I told CD yesterday at Lowe's that yes, thank you, we
should
wait to put in our annuals. It has snowed every April I can remember...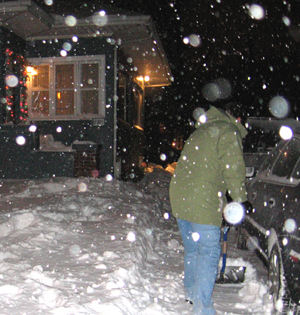 3. This is Bear after Saturday morning's Easter Egg hunt. That boy LOVES him some Easter Egg hunting!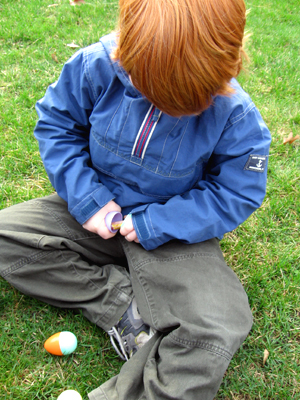 4. I was looking through some pictures as I compiled a batch for this year's family calendar, and I came across this one from Paris. It made my heart flip-flop. After a quarter of my life, he still makes my heart flip-flop. I practically fall to my knees in gratitude on a daily basis that we survived those last few years of his recovery.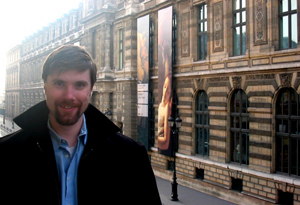 Posted by: Elizabeth at 01:46 PM
Comments
1
Making your heart flip flop after all of these years is a very good thing. You're lucky to still get that feeling.
Speaking of snow, we're about to get 4-6 inches in the next day or so. Mother Nature is being an asshole if you ask me.
Bit jealous over your inbox as my comments area is full of cobwebs. Spring cleaning needs to be done all around... still lost in a winter state of mind though.
Posted by: Michele at April 02, 2007 09:23 PM (5VGFA)
2
Why are you doing Easter a week early, and on a Saturday?
Hurry up and get here to Canada. I can't promise a snow-free April (depending on where you head) but I can promise good health care!
Posted by: Tammy at April 03, 2007 10:37 AM (xO2S4)
3
What is it about a little tv time during the day & it bringing out the grumpies?? Our son has the same issue. Once he gets a little of those tv waves into his brain, he forgets the rules, manners & demands everything.
Posted by: FENICLE at April 03, 2007 07:03 PM (/ul+F)
Processing 0.0, elapsed 0.0048 seconds.
18 queries taking 0.0036 seconds, 11 records returned.
Page size 6 kb.
Powered by Minx 0.7 alpha.